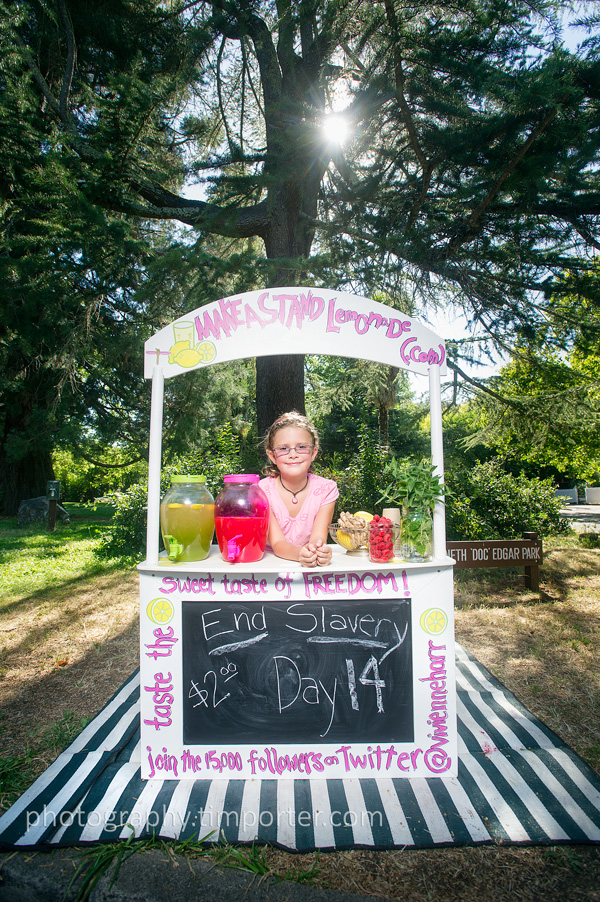 Now that we're one day shy of the first day of Fall, I'm getting around to sharing some of the photos I made this Summer — and this is one of my favorites: Vivienne Harr, an 8-year-old Fairfax girl who set up a lemonade stand in a local park and with the help of her social media savvy dad, Eric Harr, has raised more than $30,000 (and counting) to combat child slavery.
Vivienne has drawn plenty of media attention. She's as cute as they come, her organic mint-infused lemonade is tart and tasty, and her story is a compelling one: A photograph of two Nepalese children carrying heavy slabs of rock, taken by Marin photographer Lisa Kristine in her book Slavery, inspired young Vivienne to do something. She launched a web site (makeastandlemonade.com), opened her stand in Doc Edgar Park in Fairfax and set a goal of taking in $150,000 to be donated to Not For Sale, a anti-slavery organization. (How terrible is it that as this point of human history there is even a need for an "anti-slavery" group?)
Vivienne is still out there at the park in Fairfax if you want to donate (or you can skip the lemonade and use your credit card on her web site.) Or, connect with her on Twitter or Facebook.
One of the shots I made ran with this short feature in Marin Magazine.