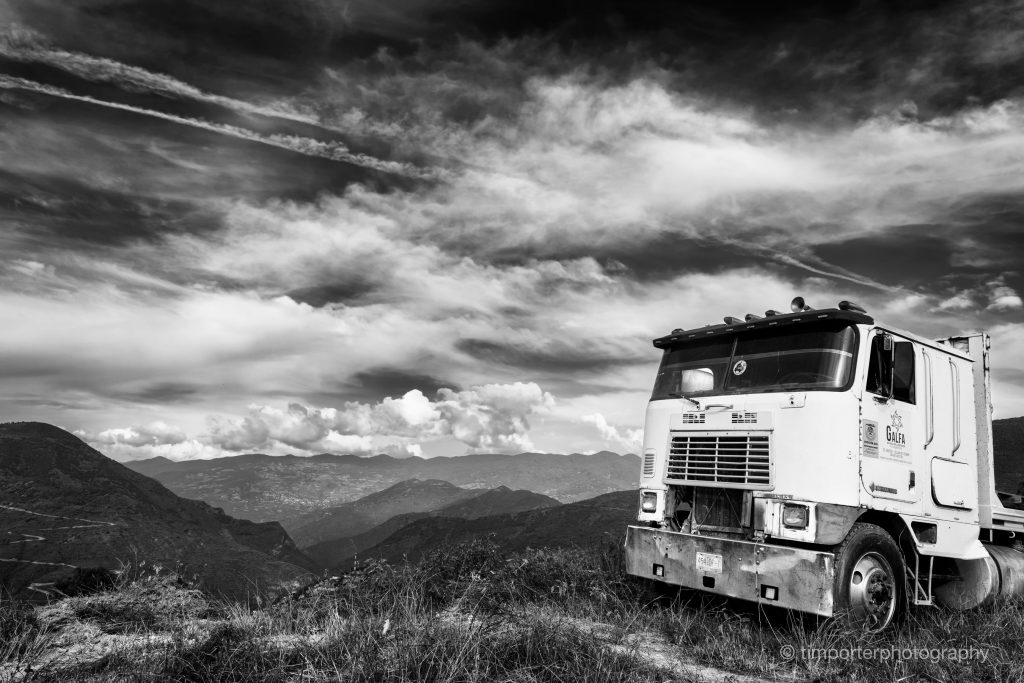 Nothing says rural like a cast-off truck. Doesn't matter if it's a rusted dually in Texas, a well-weathered flatbed in Montana or – in this case – the cab-end of semi sitting askew on a Mexican ridgetop.
My first, and only, photojournalism teacher, a wonderful photographer and an even better human being, Fran Ortiz of the now defunct Hearst-version of the San Francisco Examiner, used to tell us wannabe phototoggers: Be sure to look behind you.
That's what I did on a winter day in Teococuilco de Marcus Pérez, Oaxaca, where I'd gone to photograph the quinceañera of a lovely set of twins, the daughters of this truck's owner.
Everything in front of me was loco – a tent the size of a soccer field, a stage holding a dozen musicians, a plastic dance floor lit with color lights, a dozen tables of food, towers of cases of beer, parents, godparents, relatives, five hundred of the town's residents, and, of course, the two beaming señoritas, who achieved fifteen years during COVID and had to wait a full year more in order to have their day.
Behind me, it was the full opposite, nothing but tranquilo: the serrated crest of the Sierra Norte, dots of distant villages, and the sky dressed in its own extravagance, as if it knew it was party time. And a truck.