When I read S.A. Crosby's breakout book, Blacktop Wasteland (2020), the wild ride with Beauregard "Bug" Montage thrilled me. Then came Razorblade Tears (2021) and the ride slowed to a slog. Was Crosby a one-hit wonder? Was he mired in a sophomore slump?
All the Sinners Bleed (2023) provides an emphatic answer: the slump is over!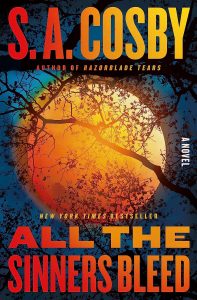 As good as Blacktop Wasteland was – and it was a fun romp through the underbelly of backwoodsy Virginia, labeled by those who label such things as a prime slice of Southern Gothic — All the Sinners Bleed is better. It is darker, it is more violent and perverse, and it confronts head on the double helix of white supremacy and religious fundamentalism that forms the DNA of the American South. Cosby has hocked his funny in exchange for substance.
All the Sinners Bleed is a mature work, deep with ideas and populated with (mostly) fully realized characters. If Cosby can stay the course he could become to Virginia what Dennis Lehane is to Boston: an unflinching mirror.
The story is straightforward: Titus Crown, an ex-FBI agent, comes back home to rural Virginia, runs for sheriff and wins – the first Black man to wear the star in the county. His jurisdiction is a quiet one. Crime tends toward drunken brawls, trailer-park beatings, and dope-dealing, much different than the domestic terrorism cases Crown was involved in as a G-man.
A school shooting changes all that, and Crown's keep runs red with blood. To stop the killing, Crown must dodge the crossfire between the demands of local Black leaders, the threats of entrenched white powerbrokers, and the fire and brimstone promised by fanatical ministers. It is within this vortex – good vs. all forms of evil – that Crosby excels and lifts All the Sinners Bleed above the ordinary.
Crosby, showing deftness, weaves history into the story – the lengthy shadow of slavery; the racial riots of 1919's Red Summer; the Bible-thumping hypocrisy of Flannery O'Connor's "Christ-haunted" South – and then flays the institutions formed from those values, to whom big, Black, by-the-book Sheriff Titus Crown is an affront to all they hold dear.
The book is not perfect. Toward the end, Crosby rather hastily knots up some loose plot lines, but that sort of finish-line rush seems common in thrillers and crime novels. However, once Crosby breaks the tape, he redeems himself with an ending that will be perfect in the movie that surely comes from the book.
So I forgive Crosby for his last-hour sprint – not that he needs nor has sought my pardon – for I, too, was reading with speed, caught up in the whirlwind of the story.