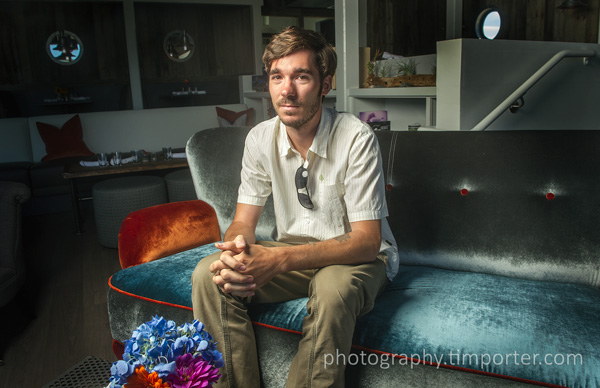 Hey, Tim, I'm often asked, what's the secret to killer lighting? (Really, it happens all the time).
They're thinking I'm going to say expensive Swedish strobes (got 'em) or compact, go-anywhere Nikon speedlights (got those, too) or even a hand-painted, Avedonish backdrop like Annie uses (don't have that).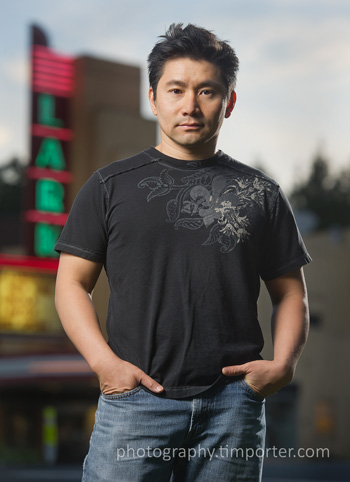 Wrong. Wrong. And wronger.
What I tell them is this: The secret to killer lighting is a stand-in — someone to be in front of the camera while you fiddle with the power or feather the softbox or pile sandbags on the stands because you're doing an outdoor shoot in gale-force winds.
Sometimes the stand-in can be an assistant, someone you're actually paying, such as photographer John Truong, left, posing with the Lark Theater behind him in preparation for a shot of the movie-house's owner (here's the final shot).
Other times the stand-in might be a writer you're on assignment with, such as Nate Seltenrich of Oakland, above, who occupied the velvet couch for me inside Terrapin Crossroads in San Rafael while we waited for Grateful Dead bassist Phil Lesh and his wife, Jill. (Writers are generally less thrilled about standing in than assistants.)
Oftentimes, the stand-in might be a somewhat reluctant PR person (whom I won't show for fear of losing future favor) or and even more reluctant spouse (ditto).
Who the stand-in is really doesn't matter as long as they have the patience to hang in there until you get the lighting just right — that is, killer — so when the actual subject shows up (often someone with no patience whatsoever) you can make his or her picture straight off just like the professional you are.