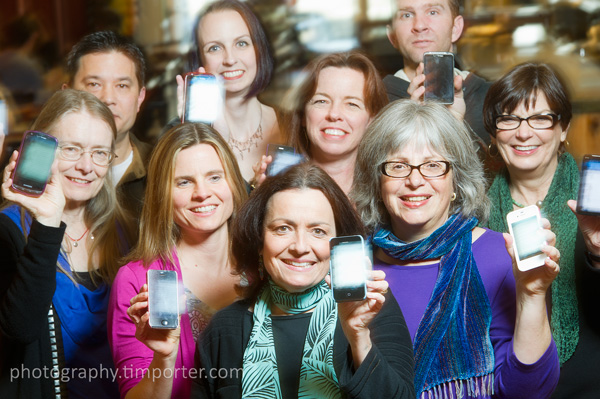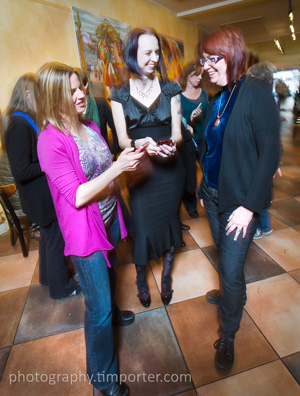 Put 10 or 12 people in a dark coffee shop, add in a freelance writer, a magazine editor, a roomful of customers and a couple of homeless people in the back, and you've got a scene.
I show up with a big light, a step ladder and a lot of attitude, hoping I can herd all these cats in front of the camera long enough to make something to illustrate a story about Marin's twitterati. Yep, this is a tweet-up and these are the tweeps of Marin.
I'd rather photograph 10 kids than 10 adults. The kids will pay attention to me, out of fear or curiosity or the simple habit of listening to adults, but the grown-ups won't stay focused for more than 10 seconds at time. They chit-chat, they get bored, they fuss. And when you throw in the cell-phone-in-your-hand factor, they check email, texts and tweets.
That all means that this kind of shot is lot of fun. As I shot away using almost ridiculous exposures — 1 or 2 seconds to burn in the ambient light while hitting them with the strobe — there was lots of joking, which I pretended wasn't directed at me. Hey, they were laughing with me, right?
The group shot was done in five minutes, but the editor also wanted some casual, non-posed shots, so I gathered several of the tweeps together in a "non-pose," moved the light in above them, put the 17mm  on the camera and encouraged them to act it up as I shot. They did. And I did. The result is the vertical shot you see here, which ran full page in Marin Magazine as a section opener.
Thanks to Mimi Towle (@mimitowle) for organizing it and the tweeps: Sally Kuhlman (@Sally_K), Sarah Houghton (@TheLib), Suzanna Stinnett (@Brainmaker), Maria Benet (@Alembic), Toni Carreiro (@toniCarr) and Marilyn LoRusso (@fun_master).
And I'm @timporterphoto.