The first time Mary Ellen Mark and I spoke she came at me like a ravenous attack dog. "Tell me who said that," she barked into the phone. "I want to know who said that."
The spark for those words was struck several weeks earlier when I was in Oaxaca, Mexico, where my wife and I have a house, and where we were visiting friends.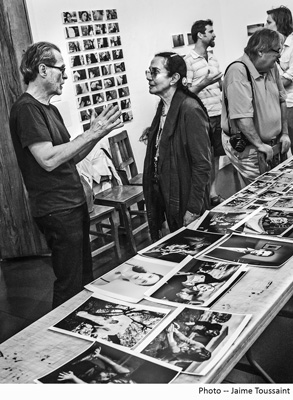 One evening, one of those friends, a bookstore owner, and I, went to IAGO (Instituto de Artes Gráficas de Oaxaca) to see an exhibition by New York graphic artist Peter Kuper, who had lived in Oaxaca with his family during the political turbulence and violence of 2006 and had written an illustrated book about the experience (Diario de Oaxaca). The exhibition consisted of drawings from that book.
At the gallery entrance, I saw a poster advertising an upcoming workshop with Mary Ellen. I was astounded. She was my photographic hero and, in fact, the reason I took up photography (see that story here). Oaxaca was my adopted second home. I'd had no idea that two such significant components of my life overlapped.
I mentioned this coincidence to my friend. As a journalist, first a photographer and then later a reporter and an editor, I had dismissed photo workshops as expensive vacations for wannabes who were transported en masse from one location to another to photograph wildlife or indigenous people. I already detested the American and European tourists who stuck their big cameras in the faces of the Oaxaca's impoverished street children, snapping their photos as if they were tourist attractions like Monte Alban or colorful rugs. I couldn't imagine hanging out with a group of well-heeled (the only types who can normally afford workshop fees), wide-eyed amateurs ooh-ing and aw-ing over "colorful" poor people.
Still, I was intrigued. This was Mary Ellen Mark. The real deal. The icon. Surely any workshop run by her would be different.
The curator of the exhibition was the wife of a well-known Mexican photographer. After introducing me to her, my friend mentioned that I, too, was a photographer and was considering taking Mary Ellen's workshop.
Immediately, she told me, "You don't want to do that. You're a professional and it's for beginners." I was surprised by the vehemence of her dismissal. Really, I asked? "It's a joke," she said.
A week or so later, back in California, I still couldn't shake the dissonance of the experience. How, I wondered, could such an ethical, humane photographer like Mary Ellen Mark be involved with a "joke"? Yet, I didn't want to waste the money nor the time. Even worse, I didn't want to participate in something that would ruin the regard I had for Mary Ellen.
I dithered. I fretted. I finally called the workshop organizer in Miami, Photo XPeditions, and spoke with Herzen Cortes, its founder. Tell me, I said, what's deal? Can someone like me – meaning a crusty, somewhat accomplished professional (albeit not as a documentary photographer) and a Oaxacan veteran benefit from this? Is it really for amateurs?
Herzen, a good guy, pitched me hard, but he was pretty much giving me what was on the web site. I remained hesitant and told him so. Then he said, "Well, would you like to talk to Mary Ellen?"
Sure, I said, and hung up thinking like that will ever happen.
Twenty minutes later the phone rang. It was Mary Ellen, calling from New York. Almost without prelude, she got right to it. "Tell me who said that," she said. "I want to know who said that."
She caught me off guard. First, I was surprised she called at all. Second, when she said who she was I expected a persuasive tone, not a combative one. I didn't know what to say and certainly didn't want to get in the middle of something. "I can't tell you," I said. "That seems wrong."
"OK," she said, "all I can tell you is that whoever said that is a fucking liar."
Boom! There it was. All the passion, all the fire, all the ferocity I had associated with her. In that instant, I decided: I was going.
She went on to explain about the workshop, about how some photographers have come for years to work on long-term projects, about how other journalists have come, about how it was designed for people to do personal work and not travel about in a herd.
That was all unnecessary. She had me at a "fucking liar." I loved her from that moment on. Loved her completely.
Six weeks later, I met Mary Ellen for the first time during the workshop's traditional opening dinner in a restaurant overlooking the zócalo in Oaxaca. "Hi," I said, "I'm Tim Porter."
She smiled, took my hand in hers, leaned in and said, "Before we're done, you're going to tell me who it was."
And several nights later, over mescal, I did.