Welcome to Second Draft.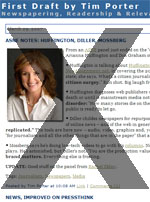 The last time you heard from me I was still blogging over at First Draft and had just finished a book on newsroom management and strategic learning. That was a year ago.
At the time, the newspaper industry was in the tank, newsrooms were laying off and I was finishing a transition from a manager of institutional journalism to a doer of personal journalism (and other creative endeavors). Just as the news industry was undergoing reinvention, so was I.
Today, the newspaper industry is still in the tank, newsrooms are still laying off and I've returned to the humbler roots I planted when I left college. My business card now reads, simply, Tim Porter, Photographer & Writer.
The switch was not the leap you might think it was. My first job in journalism was as a photographer, first for the now defunct UPI in San Francisco and next for a small newspaper. I began reporting so I could better sell my photo stories to the paper's skeptical city editor. Then, a few years later, ambition got the best of me and I jumped into management.
I blogged about newspaper journalism, management and innovation for nearly four years at First Draft, a process a pretty smart professor once called my re-education — "Tim Porter started journalism school the day he left the newsroom."
He was right — and some day I may tease out the steps of that learning in a longer piece. But not here. Second Draft will be more personal, more about my freelance life in both photography and writing. If that sounds too narrow to you, thanks for dropping by. But I can promise you my world of creativity, media, technology and, at times, journalism is much larger than it ever was.
I've moved into a post-institutional media world that in some ways resembles my early days as a freelancer while in college (the lack of guaranteed pay, for example), but I've arrived with a lifetime of skill and, more importantly, the ability to learn new ones when necessary or desired. I've learned how to learn — and am quite good at it.
Many of the new tricks this old dog has acquired are applicable to those just starting out in journalism — adaptability, resiliency, just-in-time learning — and in those you may find some value.
I will write a lot about photography, my first love and my first newsroom paycheck. I do a lot of magazine and commercial work (here's my portfolio) and find that the tools of personal connection that served me well as a reporter and manager are just as handy in the studio or on location.
I will write about reporting, too, because I can't stop wanting to tell stories even though writing is an anxiety frought experience for me. (I like to quip that I like having written).
I will write about technology because it is the tool we all use in the digital age.
And, I will write about journalism because I still believe it's important and perhaps more than ever in a world where our most systemic, intractable social ills fight for scant attention among a populace intoxicated by media intended to mesmerize but not illuminate.
Stay tuned.