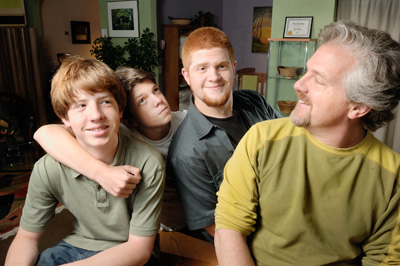 Just a quick post on this portrait because I am jamming to finish a couple of magazine projects before I head out of town for a working vacation — to the wedding of a friend in Cartagena. Vive los novios!
The magazine wanted a picture for Father's Day and we found Greg Snowden, the owner of a local green building materials company, and his three sons.
I met them in the store after it closed, put up a big softbox over a picnic table and threw a couple of smaller lights on the background.
The boys were rambunctious and never settled down, mugging for the camera, grabbing at each and pulling Dad into the fun. At first I tried to control them, then realizing I couldn't I just went with the flow, hoping a make a couple of good frames.
The result is above, one of about four or five usable shots out of 75 or so. I happy with it, although it's not what I set out to do and therein lies the lesson:
Never try to teach a pig to sing. It doesn't work and it only P's off the pig. In this case, the pig sang when it was good and ready.