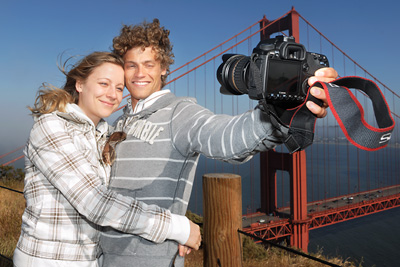 I like tourists. Maybe that is because I like being a tourist myself — seeing new places, talking with people from other cultures, finding wonder and amazement in what the locals consider to be the quotidian.
Here in Marin County, we get tourists — about 13 million a year who arrive by boat, bus and, more frequently of late bike (over the Golden Gate Bridge.) Last month I did a photo story for Marin Magazine about local tourism. I did the usual reporting about numbers and economic impact, but the most fun I had was shooting the tourists.
I photographed about 40 individuals, couples or families, mostly in tourist-heavy locales like the Sausalito waterfront, the Golden Gate Bridge view area or the Marin headlands — people from all over the world: Finland, Turkey, New Zealand. Only one couple said no, a pair of very paranoid Americans who all but shrank when I approached.
The above shot of a cute French couple was the double-truck opener for the piece.
The technique was simple: A 17-55mm on a D2Xs in my right hand, an SB800 with a remote trigger in my left, on quarter or eighth power.
Here's the whole story. Or go to the jump for the opening anecdote about four fun-loving ladies from Arizona and one's desire to be frisked.