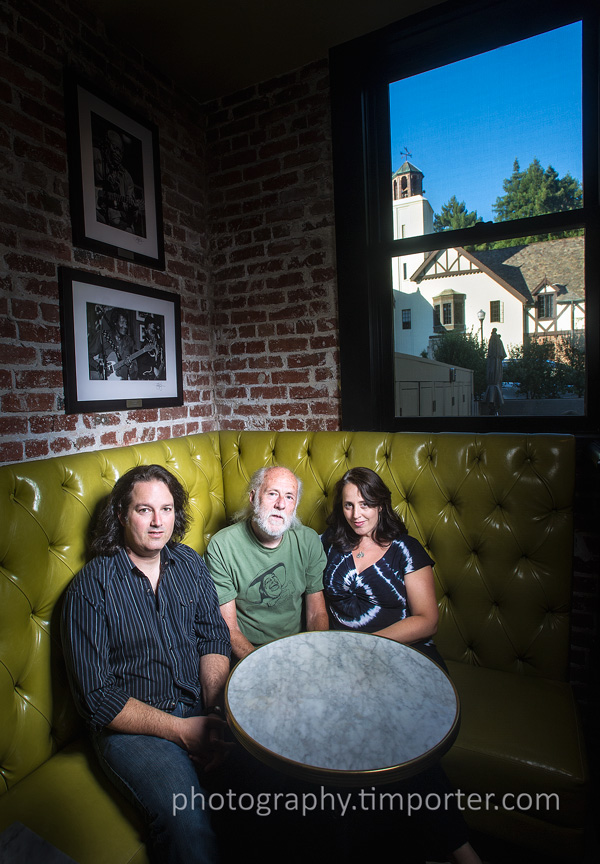 Sweetwater, the resurrected music club in downtown Mill Valley, was its usual early evening scene — a Lululemon-clad smattering of late lunchers lingering in the outside patio, handsome families arriving for early dinners, clogging the entrance with strollers and dogs, and aging hipsters making their daily migration up the block from Peet's as they transitioned their intake from caffeine to booze.
I was there to photograph John Goddard, who for 40 years was the proprietor of Village Music, the revered record store that closed a few years back, victim of Mill Valley's morph from hippie haven to hedge fund heaven and, some say, last remaining vestige of a Marin County better known for its creative spirit than its stratospheric housing prices. John was coming with Monroe and Gillian Grisman, brother and sister, children of mandolinist (and Jerry Garcia collaborator) David Grisman, and makers of Village Music: Last of the Great Music Stores, a film that would debut at the Mill Valley Film Festival and about which Dan Jewett of Marin Magazine was writing a story.
I'd hoped to photograph the three of them on the patio with Sweetwater in the background. One look at the crowd told me that wasn't going to happen. At minimum, an unfortunate incident with a weak-bladdered Golden Retriever a couple of years ago taught me never to leave lighting gear exposed in the presence of dogs.
Inside the front door, though,wrapping along one wall of Sweetwater's small cafe, was a yellow banquette, its leatherette shiny and bright against the building's red brick wall. There, in the corner, beneath a window was my spot.
Another lesson I've learned: Don't ask permission. I told the hostess — politely — what I was doing and brought in a pack, a stand and a light, moved some tables out of the way, did a test shot and was ready in a couple of minutes.
Goddard and the Grismans showed shortly thereafter. Everyone knew them, so it took me a while to get them inside. I wanted to get this done because folks were filling the tables and I was losing my shooting space (and probably the patience of the waitresses).
Once they were seated, it went quickly. I made some safe shots first — as I always do to ensure I've got something — and then played with the window above them, changed lenses to the 17, climbed on a chair and made a few frames from above. My clambering either amused or frightened my subjects. I'm not sure which. But it resulted in this frame, my favorite from the day.
(Here's the shot that ran in the magazine.)