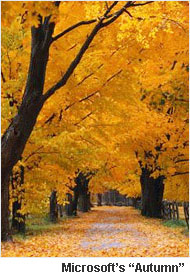 * Mystery Image Revealed: While doing some rainy day bookmark cleaning, I found this aging link from David Pogue of the Times about one man's quest to find the origin of the Windows screensaver image you see at the left. Here's the whole, hilarious story from writer Nick Tosches. One quote: "I see people in black hoods and robes sitting round a table, bound by blood oath never to divulge the latitude and longitude of Autumn." Read on.
* Annie Works, We Watch: Annie Liebowitz photographs pairings of actors and directors for Vanity Fair. Here are the vids. Make sure to watch Mickey Rourke, then click to this Huffington Post collection of Rourke photos with him posing with one hand down his pants.
* Blogging Photog: A new entry on the blogroll is travel photographer Paul Souders. His blog is well worth the click. Here's a takeout from an entry on shooting surfers in Costa Rica:
"I have never been much of a surf beach kind of guy. I grew up next to a chicken farm, a long way from any ocean. Plus I have issues with public nudity stemming from low self-esteem and a rigorous Lutheran upbringing."
* Wayback Machine: Ever wondered what big city newspaper photographers looked like a couple of decades ago? Here's the answer. The big guy on the left, Kim Komenich, won a Pulitzer; the pretty boy on the right, Kurt Rogers, is one of the founders of Think Tank Photo. All worked for the "old" San Francisco Examiner.
* Burning, Man: Magnum shooter David Alan Harvey has started Burn Magazine, an online platform for emerging photographers.