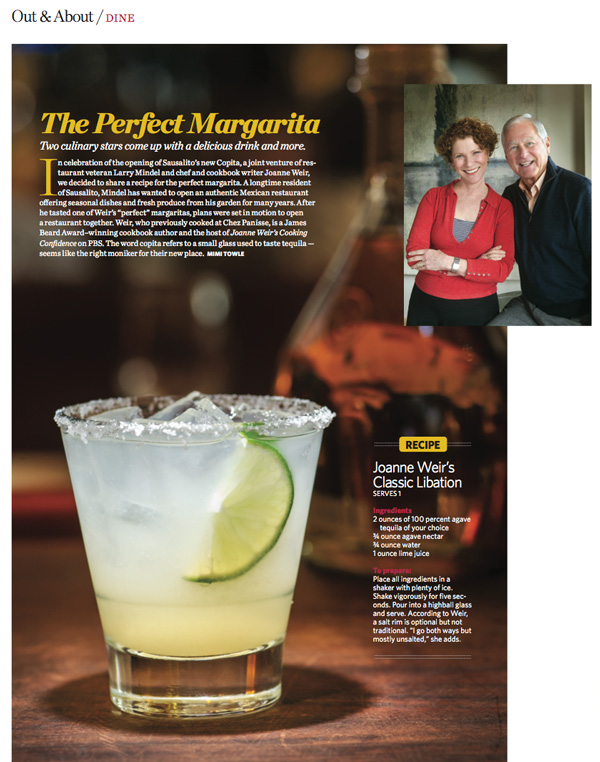 Two of the things I love to photograph are people (of course) and food. Occasionally, I get the chance to do both at once.
That happened recently when Marin Magazine asked me to photograph restaurateur Larry Mindel and former Chez Panisse cook and and writer Joanne Weir, who have teamed up as owners of the new Sausalito Mexican restaurant, Copita.
The idea for Copita, which bills itself as a tequileria, came out of Weir's book, Tequila: A Guide to Types, Flights, Cocktails, and Bites
, so I also wanted a picture of what Weir calls her "perfect" margarita.
I photographed Mindel, Weir and the "perfect" margarita on a weekday afternoon at Poggio, Mindel's Italian restaurant on Bridgeway in Sausalito. For the picture of them, I used a quiet back corner of the restaurant, a big front window for light and and the helping hands of a publicist to hold a reflector. For the margarita photograph, I used a small Nikon Speedlight and left plenty of space for the art director to lay in some type.  The lime wedge was Weir's idea and it made the shot.
(For more of my food and restaurant photography, go here. And, don't forget to buy my book: Organic Marin: Recipes from land to table
.)