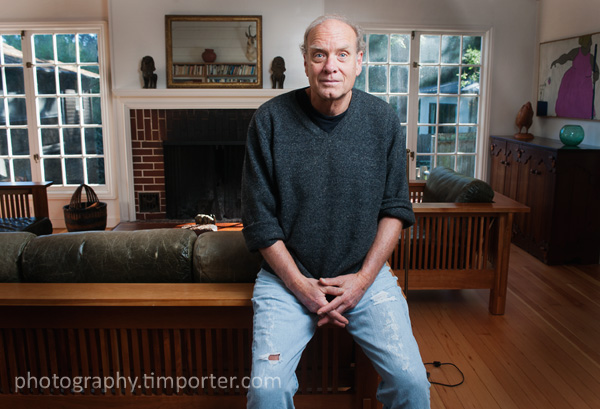 I made this photo of David Harris, the writer, onetime anti-war activist and ex-husband of singer Joan Baez, a couple of years ago, but it never saw the light of day. I was on assignment for Marin Magazine, which used a different frame (see the story and photo here.)
I came across this shot again while compressing the archives (a weekly task) and it made me think of meeting Harris.  He was an iconic and heroic figure in my youth — a former Stanford student body president who made a stand against the Vietnam War by refusing the draft and doing prison time for it, and the guy who married the most luscious chanteuse of the day in an era when politically-minded folk singers were considered hot.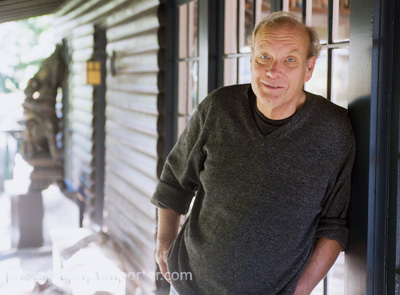 Four decades later when I met Harris in his Mill Valley home I was a bit intimidated and hoped I could make a picture worthy of my opinion of him, which when I left 45 minutes later I wasn't sure I had (but I was even more self-critical in those days than I am now — something those who know me well might find hard to believe).
A couple of months later, the magazine chose one image and I worked up another (the one at left) for my book.  I filed away the rest.
As I culled the shoot further today for archiving, I began to really like this frame. Harris seems patient, aware of my presence, but also awaiting my departure. It's a moment in between. There's no subterfuge, no pretense of me not being there. It seems to be an honest photo and, increasingly, that's all I want to make.
***
Here's Harris in his own words about what happened to him in the 1960s:
"If you were a young man in the United States in 1966, you had the option of being John Wayne in "The Sands of Iwo Jima" or John Wayne in "The Sands of Iwo Jima" or John Wayne in "The Sands of Iwo Jima."
Read more if Harris' recollection here or read a People magazine profile of him about his post-Baez marriage to late New York Times reporter Lacey Fosburgh.