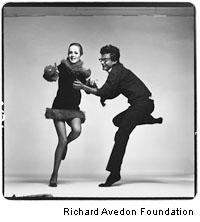 * Avedon Hung Up: The International Center for Photography in New York is showing a Richard Avedon retrospective (until Sept. 16) and the New York Times has the story behind the exhibit. It summarizes his work this way: "Avedon's photography has always amounted to a plea for beauty — to see it mysterious, to see it raw but ultimately to see it whole."
Avedon's early fashion work (he's with the model Twiggy here) was before my time, but when I his American West portfolio, which I saw in a Berkeley museum when I was a young journalist, left an indelible impression for its straightforwardness and honesty.
* Avedon's Competition: Irving Penn.
* Fashion Photography: What is it? Now you know.