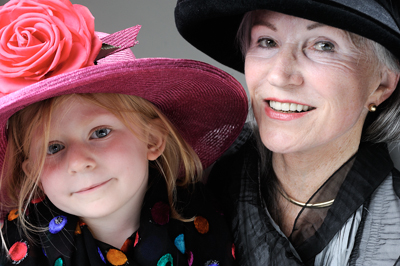 Work, work, work. Everyone's worried about it. There's either too much or — for many photographers and writers these days — too little. The best way I've found to beat back the anxiety beast is to pick up a camera and shoot. Making pictures is what got me started, and making pictures is what keeps me going. That's why I love any opportunity to just play with the camera.
I had the chance to do just that last week when family came to visit from Paris and Lost Angeles. After a couple days of doing the tourist thing, we gathered one morning at my studio with bags full of colorful hats and scarves, and spend a fun couple of hours dressing up and being silly.
The one child in the group — Vanessa, 4 — tired of the fun before the adults, which says something about the need we grownups have to let loose the inner child more often.
Above is Vanessa and my mother-in-law, Deborah. (The hat became Vanessa's favorite and she's considering, as much as a 4-year-old can, of changing her middle name to Rose.). Below is Vanessa and her mom, Karina.