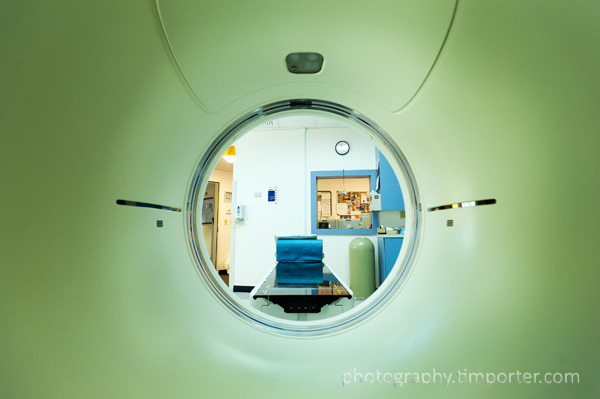 You've got cancer. You've got several bags of toxic chemicals connected to your body, hoping the chemo kills the tumors. Or, you're lying beneath a huge X-ray machine, whose beams are burning the cancer out of you. In the middle of this a photographer approaches and asks if he can take your picture.
Why not? you think, so you say yes. He does, and a few weeks later there you are in a local magazine illustrating a story about the hospital where you're being treated.
This is much of what I do — enter other people's lives just long enough to tell a story (or, more accurately, a small moment of a story). I'm always surprised and forever in debt to those who grant me entrance, even when their  lives might not be going particularly well in one way or another.
The inside-out view of CT scan machine above and the strip of photos below were part of a story in Marin Magazine about the Marin Cancer Institute and its director, Dr. Francine Halberg, who is shown below talking with colleagues.