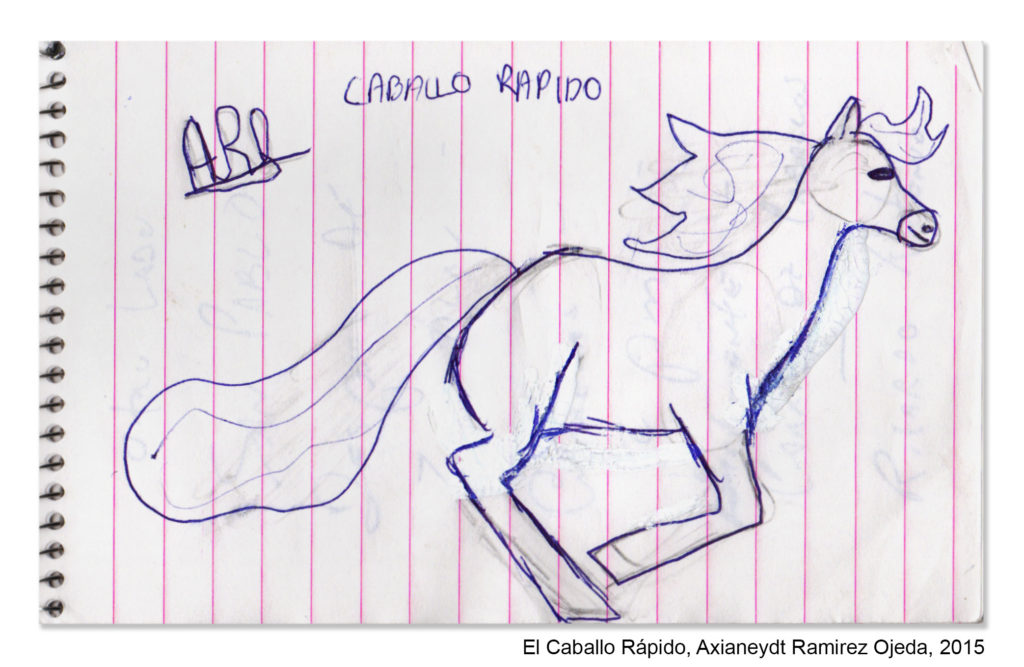 When I met Axia, she drew horses. In the bedroom she shared with her mom and two younger siblings, she had papered one wall with sketches of horses. She'd given each a name; for example, El Caballo que Vuela – the Horse that Flies.
I made some photos of Axia while she sat and drew in the light coming through the bedroom door. She asked me for a piece of paper, so I handed her my notebook. A while later, when I was on the patio talking to her mom, Axia walked out of the bedroom and handed me this drawing – El Caballo Rápido — The Fast Horse.
A few months later, I returned to the farm town where Axia lived and brought her a large sketchpad and pens I'd bought in the U.S. She filled all the pages with drawings of horses and added many of them to the gallery on the wall.
The following year, on my next visit, I was surprised to see the wall was empty; all the horses were gone. I asked Axia's mom what happened. She said Axia's younger sister, angry about something, had ripped up the drawings and the sketchbook as well.
Axia, whose full name is Axianeydt Ramirez Ojeda, is older now and has moved to New York. She still draws, but mostly anime characters. She seems to be done with horses.