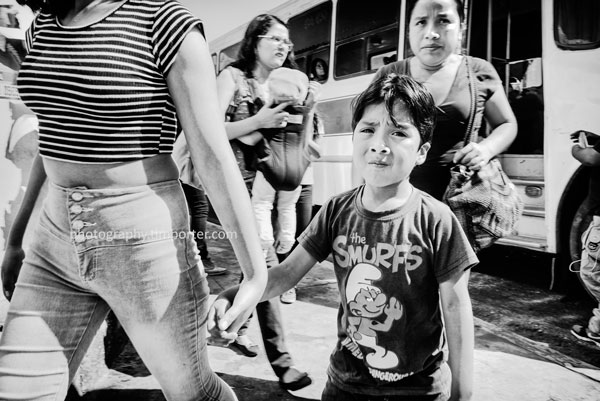 Some of us were in Oaxaca recently. We went at this time of the year because this was when Mary Ellen Mark always went and she was how we knew each other.
After she died last year, we went to a party in her honor on the terrace of a rich man's penthouse in N.Y. Afterwards, we drank mescal, looked at photographs and vowed to return to Mexico – together, one more time.
Five of us made it. Two others had to cancel. Between our promise to return and the actual trip, our little venture had grown. More people joined us – Mary Ellen's husband, her assistants, some friends, a pair of spouses. All in all, we grew to a good group of adventurers, artists and admirers.
Also, Mary Ellen's friends in Oaxaca wanted to honor her, as did the Bravo Center for photography and the photographer who'd taken her place in the workshop she'd led for 20 years.
An exhibition of Mary Ellen's work was put together, as was another of her students' photographs (including ours). Maggie Steber, the new workshop leader, invited the five of us to show our work to her students. The shows opened. Speeches were given. Stories were told. Tears were shed. It was all beautiful and moving.
After the events, though, and the late-nights and early-mornings, it was just us – the photographers. (Oh, and Mary Ellen's husband, Martin, a filmmaker, who got exactly what we were doing and why we were there.) That's when we worked, which is what Mary Ellen would have wanted the most.
We returned to Mary Ellen's haunts and to the individual projects she'd helped us develop.
Twice we went out together, first to San Martin Tilcajete, where the townsmen slather grease on their bodies and run about and later to Teotitlan del Valle, where faithful Catholics rise early and march through the streets to the baleful wail of a single trumpet.
Separately, we visited the people we've been photographing, some of them for a few years, some of them for longer than 15 years.
Jody took the bus up to Paula's house on the slopes of Monte Alban. Paula was a girl when Jody first photographed her. Today she is a mother. She lives where she grew up, amid the same poverty.
Lori photographed her "girls": the deaf twins who live in the mountains and the teen-age roommates who sleep in bunk beds in an evangelical orphanage.
James spent time with the Lopez family, as he has for nearly 20 years. They earn their living picking plastic bottles and cardboard scraps out of the dump.
And Bjorn? Well, he was Bjorn. He walked about as he does and found order amid the Oaxacan chaos and captured it with his camera.
I arrived before the others and left after them. Those days when I was soloing, I worked on my project, photographing the mothers and their children and learning their stories. But when the others were there, I wanted to be with them. I felt like something special that I'd had – and that we'd had together – was slipping away and I wanted to hang onto it for as long as possible.
So, I tagged along.
Jody and I went to Abasolo, where a young boy lives who was severely damaged at birth. Jody has photographed him and his mother and father for many years. The father is now going blind from diabetes. After we left their house, we walked to Marino's café for a coffee and a chat and then to a nearby house where Jesus lives, a boy I've been photographing. He, too, was born badly and must use a wheel chair. When I think of Abasolo, I think of Jody and I wanted her to meet Jesus so she would think of him, too.
Lori and I visited Coco in the women's prison near Tlacolula. Coco founded Hijos de la Luna, the children's shelter, and it was Lori who took me there for the first time one day when I was frustrated with my photography and unsure what to do. That visit changed everything about the way I make pictures.
James took Anja, who was participating in the workshop, and I to see the Lopez family at the dump. Afterward, we rode in the family's twin-cab pickup to Zaachila for lunch. The truck stalled at every topé and the food was terrible and pricey, but the talk was good and Reina, the mother, made me promise I'd come visit her even though the Lopezes are "James' " family.
I made very few good photographs this trip. The best images are in my head – Lori and Jody editing on the terrace of the hotel; Bjorn lit by the screen of his laptop while showing his work at the Bravo Center; James extracting his massive Hasslblad from its bag at the dump; Martin, standing alone in the street in Teotitlan, dressed in a parka, headphones on, capturing the eerie music of the procession.
This is my Oaxaca. That was our Oaxaca. I hope we can all hold on to it.