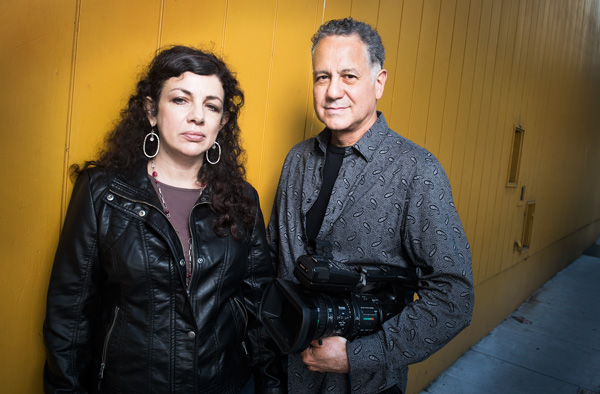 Photographers like alleys in the same irrational way that cats like empty boxes. We can't pass one up. So, of course, I was purring with excitement when San Francisco filmmakers Donna LoCicero and Robert Campos told me they  lived in a South of Market alley.
I was photographing them for Marin Magazine in connection with their film, 3 Still Standing, a documentary about three comedians — Will Durst, Johnny Steele and Larry "Bubbles" Brown — who were contemporaries of Robin Williams and Dana Carvey but never achieved the success the latter two did. The film is opening at the Mill Valley Film Festival.
As I parked down the block from their home (parking in Soma!!!) I was already looking for places to make the picture, but LoCicero and Campos — being both visual pros and busy people — already had scoped their neighborhood. The next alley over, they said, had a couple of options, one dark and one lighter.
We schlepped the gear — one light, a heavy battery and a C-stand — set up by a black corrugated wall, shot for while and then moved up the street in front of the yellow wall you see above. Couldn't have been easier — pre-selected backgrounds, subjects who schlep and two people with a good sense of humor.
In 30 minutes, we were done.
The magazine used the shot below against the black wall. I like the yellow one above a bit more. The vertical (in the slideshow) is a behind-the-scenes snap for those of you who like to see that thing.