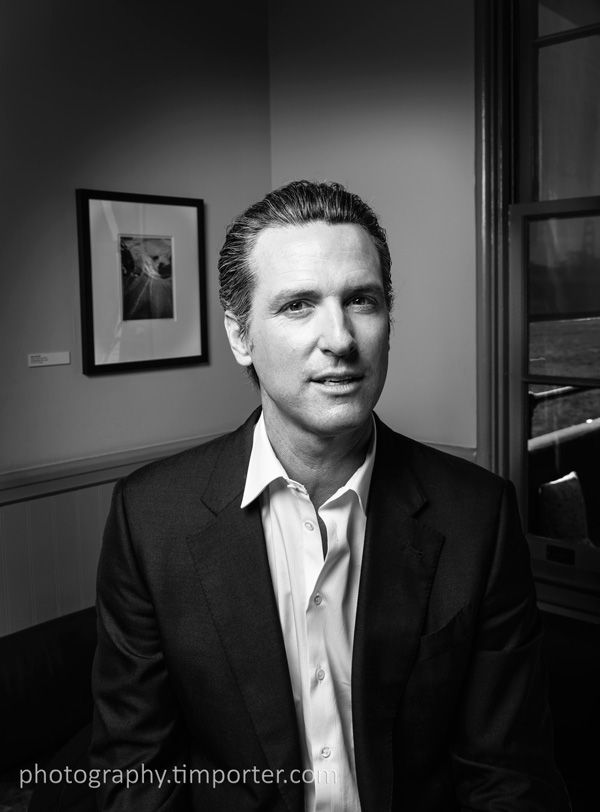 I recently photographed Gavin Newsom for Marin Magazine and took advantage of the opportunity to make some images for myself after I'd gotten what I thought the magazine needed.
Newsom, the current lieutenant governor of California and a former mayor of San Francisco, was pushing his book, Citizenville. I've photographed him before at several public events and he is photogenic and very camera aware so it is difficult to capture him even momentarily out of character.
During the interview with writer Stephanie Martin in a bright corner of Murray Circle, the restaurant at Cavallo Point in Sausalito, I used the strong daylight streaming through a pair of large windows and the rich warmth of the walls. Those are the images the magazine used and you can see them below in the slide show or on the pages of the article. The color was so intense I had to take out quite a bit of the yellow.
For myself, though, I wanted something darker, so in the five minutes I had with Newsom between the end of the interview and his departure I photographed him with the harsher light of a single oct0box hung over his head. Later, I converted one of my favorite frames into black and white, which you see above. The other black-and-shot shot (below) was lit with the window light and I think it works better in monotone than in color.
Ever since returning from the Mary Ellen Mark workshop in February, I've been working more with black and white conversions and very much liking the effect. As much as I love the excitement color can bring to an image, I feel that it can also distract from the subject.
With Newsom, a man who knows he is working the camera, black-and-white seemed to penetrate his shell a little deeper. What do you think?
An aside: Last year, I photographed Newsom's wife, Jennifer, in my studio. Here's a video of me doing the shoot.