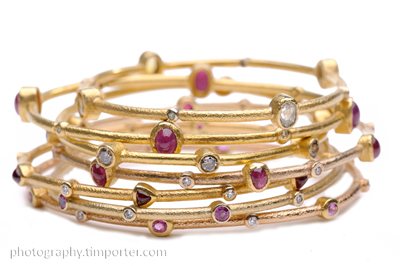 Today and tomorrow I am shooting jewelry in the studio for the magazine. Even though I am happy to have the work–especially after the advertising disaster that was 2009–photographing jewelry is one of my least favorite things to do.
I do a pretty decent job with it– the above shot is of  bracelets from Alix and Co., Mill Valley jewelers–but there is still plenty for me to learn. There are nuances to the  lighting, especially to minimize unwanted reflections, I haven't mastered, and I'd love to have a camera with perspective control into order to control depth of field more, but I'm not planning on buying a 4×5 any time soon.
I spent several hours in the studio yesterday working on new lighting set-ups, and even woke up last night about 3 a.m. thinking of another. This time, I am using more diffusers (including scrimming the whole shooting table) and more fill, and shooting on white plastic, which bounces the light very evenly. The quality of the light is the best I've made so far. Still, I have not figured out how to keep the camera from appearing in a reflection and continue to have difficulty controlling highlights while shooting on white.
Since I returned to photography five years ago–after a 20-year detour into newspapering–I have learned a great deal about the technical aspects of the craft, but acquiring the knowledge about shooting jewelry – or other tabletop products for that matter – is difficult for me because I don't learn in a linear fashion. I am a sporadic learner, taking bits of know-how from here and there until I've put together a workable toolkit. Jewelry techniques, however, require certain amounts of exactitude and understanding of math and are best learned in a step-by-step manner, a method I have always found elusive.
At times like these, I wish I'd had the opportunity to apprentice with a commercial photographer and acquire some tricks of the trade from a master instead of picking them up piecemeal from books, the Internet and, of course, the lessons of past mistakes. But that is not the route my life took, and my photographic journey continues, one day at a time, one shot at a time.
I'll let you know how it turns out.