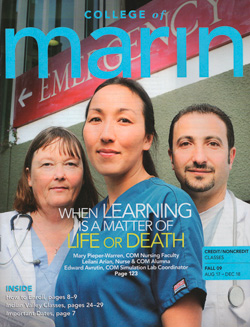 YouTube is awash with behind-the-scenes videos of famous photographers like Annie Liebowitz and other high-end shooters doing magazine or fashion shoots. The videos show gobs of equipment and small armies of camera assistants, stylists and make-up artists. With all these people scurrying about, usually to an up-tempo soundtrack, the viewer is given a sense that each of these photographers' images — and by extension the magazines who pay them — is a production of grand artistic and financial scale.
The everyday reality for most photographers (Liebowitz included) is quite different. Although I do hire assistants and stylists for some jobs, many others consist just of my primary crew: Me.
The picture, shot for the cover of the College of Marin's latest class catalogue is a good example.
The image started with a call from the college's communication director. We had worked together a few times before. She needed a picture of several students in one of the school's new medical programs and wanted to use the emergency room sign at a local hospital for a backdrop. She also needed the photo taken the following day. And at mid-day — the only time everyone was available.
I responded with a photographer's two most important words: No problem.
I drove by the hospital for look-see. Awful. Cluttered background everywhere, and all but one of the emergency room signs were in parking lots.
The next day, the communication director and I met at the hospital, walked the area together and chose this spot, the only one I thought would work. What you see here is just a few feet of sidewalk. On either side is an array of pipes.
I set up one light in a round softbox, snooted another on the sign, gave direction to the students and started shooting. I'd stop every few frames to move them a bit, add or remove a prop, take off the white jackets, put them back on and adjust the light (which is only about 3 or 4 inches out of the frame.)
I made this frame about halfway through 20 minutes of shooting them as a group. I then did individual shots of each.
Later, after the college chose the shot it wanted from a set of proofs I put online for them, I worked up the image extensively in Photoshop — lots of skin smoothing and cleanup, about an hour in all.
This was not a big job, but it was a satisfying one. A good client needed a photo in a hurry. I overcame a horrible location with some selective framing and light. And the college was happy with the results. A good day's work for a working photographer.