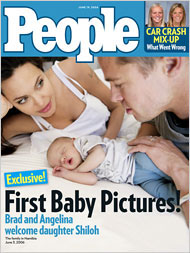 * People Who Need People: The New York Times asks the question we've all been wondering about: "Can a few snapshots of a baby or a bride, accompanied by a fawning article, really be worth millions of dollars?" Read the whole story about why tab magazines now routinely pay celebs to play (like this cover of Branjelina and child).
* Gulf Twosome: The two shooters atop the current photo how-to heap — David Hobby and Joe McNally — report back from the doings at Gulf Photo Plus. David offers the behind-the-scenes story on this SB800-laden image. Joe calls Dubai "3 parts Vegas, one part planet Tatooine, and 6 parts oil money.
* Photographers Wanted: Want to be a photojournalist? These newspapers are hiring.
* Pitching a Home Run: Rob Haggert (A Photo Editor) tells us how to make winning pitches to photo editors. Rule #1: "The absolute fastest way for photographers to get a story made is to approach a writer that the magazine uses on a regular basis."
* Jumping the Canon-Nikon Divide: Freelance sports photographer Preston Mack switched from Canon to Nikon when he heard these words from an editor: "The cover image doesn't look in focus." Read Mack's whole tale of learning to love the D3 on Sportsshooter.com.