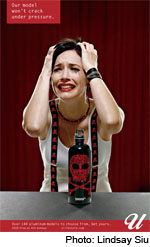 * Blog I Like: Heather Morton is a Toronto art buyer who often writes about photography on her blog. In this post, she highlights Seattle photographer Lindsay Siu.
* Oh, Miley, We Hardly Knew Ye: Plenty of discussion about the Vanity Fair-Annie Liebowitz kerfluffle. There's outrage in the Flickr Strobist group, puzzlement over celebrity worship in Utata, and James Danziger at the Year in Pictures makes it official:
"Annie Leibovitz's work reveals four things: one – she likes to get people to take off as many clothes as possible; two – she loves to photograph skin, loves the different textures and colors; three – she loves to show a family bond and loves to show touch; four – she designs her pictures to cause a reaction. Her work is about making contact on every level. "
* From PJ to Plastic: ReyGuy is a Dallas Morning News photographer and photo editor who indulges his creative side (or sides) with polaroids and Holgas. Here's his Texas highway sign set.
* Phono-journalism: Live news — a shooting — broadcast from a mobile phone. Jeff Jarvis has the link. Definitions of journalism and photography are continually in flux.
100 Years of Photos: The Melbourne Age, an Australian newspaper, has compiled a Century of Pictures from the paper. Take a look. (Via Rob Galbraith.)