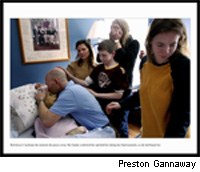 Even though the bulk of the 2008 Pulitzer Prizes announced today were won by large news organizations — the Washington Post took six — one of the awards demonstrates that capacity of great work exists even within the smallest of news organizations.
Photographer Preston Gannaway of the 20,000 circulation Concord (N.H.) Monitor on the Pulitzer for Feature Photography with her intimate essay of a family coping with death. Looking at her pictures is difficult emotionally, but rewarding in their honest portrayal of something that is real in all of our lives. (Slidshow here.)

In my previous blog about newspaper journalism, I once wrote about the power of one, the capacity of any journalist, writer or photographer, to strive for excellence. Gannaway proves the point.
* Also: The Pulitzer for Spot News was won by Adrees Latif of Reuters this picture of a wounded Japanese photographer being held at gunpoint during the riots last year in Burma. The photographer later died.