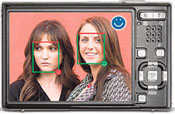 There's a new technology out for point-and-shoot cameras (and no double some day soon fo DSLRs) that's not going to make David Hobby very happy — it won't snap the shutter until the subjects are smiling.
Yep, no grin, no grab.
Today's Wall Street Journal (subscription only) has the story about FotoNation, the California company whose red-eye reduction technology took the the demon-from-Hell look out of millions of snapshots, and its new software that recognizes when a photo subject is not smiling or has her eyes closed.
It's all too Stepford-like for me, but that sound you hear is the bar being lowered again — the one that's squeezing the knowledge out of making a good image. Get ready for robo-camera.