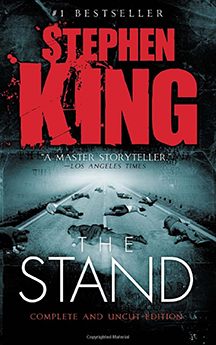 In The Stand, Stephen King's book about a lethal pandemic let loose upon the world by an accident at a U.S. Army biological weapons facility, social order collapses as the disease spreads. King does not explain whether the rioting and mayhem results from the illness itself, that is, whether the virus induces madness, or whether it is instinctual human behavior to shed the trappings of civility when facing certain death and embrace in our last hours the survivalist responses of the herd – kill or be killed, muscle matters, what is yours is mine.
Had I read this book when it was first written, in 1978, I no doubt would have found the story entertaining because in those days I read a fair amount of science fiction, but I would not have put much credence in King's dystopian scenario. Now, I am not so sure.
A couple of days ago, here in the most heavily armed country in the world, hundreds of men (and some women) clad in military costumes and armed with high-powered weapons attempted to enter the legislative chamber of the state of Michigan. State police stood in a line to prevent their entry. No shots were fired. No one was hurt. But, what if … ?
What if a cop couldn't take any more guff from a frothing protestor screaming at him from inches away or decided that one the toy soldiers was as dangerous as any of the unarmed black men shot to death by police in recent years? What if a camouflaged, masked, Kevlar-clad, goateed, self-described patriot, surrendered to the rush of testosterone coursing through his beefy body, lost trigger discipline and emptied a clip into the crowd? The ensuing violence would ricochet far beyond the foyer of the Capitol in Lansing, Mich.
These over-fed, self-styled militias have become de rigueur at right-wing rallies, lethal equivalents of the sign-language interpreters who stand stage left at more progressive events. No patriotic march is replete without firearms, the bigger, the nastier looking the better. Sad to say, the threat of violence has become a cliché in America.
We are not yet the blood-thirsty, and bloodied, hordes of the future imagined by Stephen King, but we are standing on a road that runs in that direction. Personally, I don't care about guns. Own them, collect them, shoot them, none of it bothers me. Live and let live. That works for me from the rifle range to the bedroom. But just as I don't want to see rampant sex on the street, I don't want to see guns there either. They don't need to be standing in line at Starbucks, walking through the public parks, or carried across the chest into the Capitol of any state. Especially if the guy strapped to an AR-15 is spewing spit along with his profanity.
I've screamed at cops, so I get that it. I grew up in an age of protest and even if I myself think that someone who is yelling because he can't take a six-pack of Corona Light to the beach is a few cards short of a full deck I grant him the right to demand his dose of Vitamin D. However, I never would have held a loaded gun (Isn't that what they say: always assume a gun is loaded?) in front of a cop, much less got in his face while I was doing so? So much can go so wrong.
Somehow, some way, we've got to dial this down. The crack in the Liberty Bell has widened. The cradle of Democracy creaks like a MF. The fabric of our society is growing threadbare. But none of it is yet damaged beyond repair.
How do we fix this?