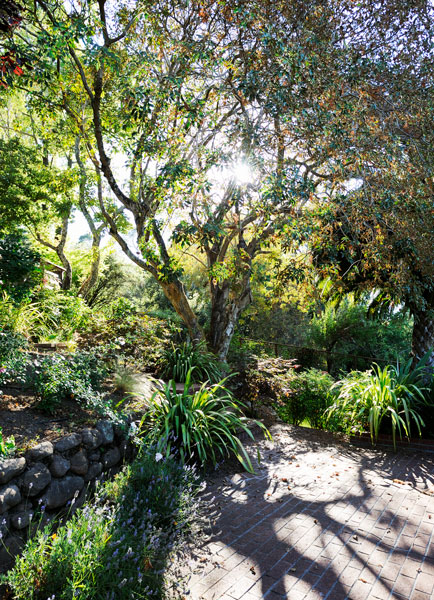 The season has changed. When I got home from Mexico seven weeks ago, it was still winter in Northern California, if not by the calendar then by the temperament of the weather. The nights were cold and damp, the days not much better. It rained enough to brighten the grass and quench the thirst of the trees. When I sat on the deck to read, I wore corporate fleece and Pendleton wool.
The wool now mopes in the closet, the fleece drapes over a dining-room chair, both furloughed for lack of work. Eighty degrees yesterday and the day before, sunshine from the first light of dawn to the last of the evening. A t-shirt on the deck. What didn't bloom in March is bursting now. New leaves, flamboyant with their fill of chorophyll, adorn the decorative maples. The wild grass in the open space aside the house is thigh high, heaven for the deer, paradise for the ticks.
This morning, as I walked the stairs to the street to retrieve the Sunday news, I stopped on a landing to watch how the sunlight sparkled in a wayward spray of water leaking from the irrigation system. It seemed too pretty to repair, so I will leave it like that for a day or two. On the next landing, I walked face first into a sticky grid of webs erected overnight by industrious spiders, work intended for prey smaller, and more digestible, than I. On the third, and last, landing, a swarm of tiny insects danced in the air, their translucent wings backlit by the sun. A fresh hatch. How many days of life will they have?
Before I opened the wooden gate to the street, where the newspapers awaited, the national paper sheathed in blue plastic and the local effort bagged in beige, I thought about all the life that happens around me while I shelter in my place – the blooming and bursting of camellias, azaleas, and magnolias, the nocturnal industry of arachnids, the bomb of insects exploding before my eyes. All of this – and more – in my small slice of the world, a quarter-acre on a hillside. I am but a traveler here, passing through. The bushes bloomed, the spiders spun and the bugs were born before Mother Earth stamped my passport and issued me a visa, and will continue to do so when she denies my application for renewal.