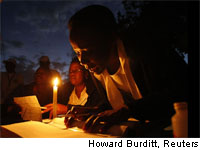 Photojournalism work that caught my eye today:
* Joao Silva in Sadr City for the New York Times. Silva is always in the middle of things. Here is his own website.
* Also in the the Times, the Cat Lady of Switzerland, a textbook example of doing photojournalism with small strobes ala Mr. Strobist.
* This Washington Post gallery of the election in Zimbabwe (10 sec. ad). No. 8 in the gallery is show in this post.
* Correy Perrine of the Nashuah (N.H.) Telegraph shows you can make an extraordinary photograph at an ordinary event such as a teachers' protest.
*Another good use of small strobes on assignment, an author in a jail cell by Ken Ritchie of the Madison Courier.