August 31, 2005
Katrina Coverage: Dining at the Media Buffet
Pity the poor people of New Orleans and other Gulf communities, but their misfortune provides evidence that the American media diet has become an all-you-can-eat buffet that's rich enough for even the most gluttonous consumer yet still offers morsels tasty enough for more discerning diners.
In other words, like at any decent Southern calorie trough, it's a quantity vs. quality equation: You can eat yourself to death with mac 'n' cheese or just nibble on some veggies.
Here's the Hurricane Katrina menu:

The Carb Platters: All big-story coverage these days starts with the wires, which stream endlessly into Yahoo and Google, reporting the news in incremental segments, updating death tolls and damage estimates and providing the canned quotes so familiar to this type of story: "'It's a lot of chaos right now,' Louisiana state police Director H.L. Whitehorn said."

The Prix Fixe Dinners: Newspapers serve up these full plate meals based on traditional recipes - a mainbar (taken mainly from the wires), a couple of sidebars, a sampling of photos, some graphics and, in the last few years, teases to more coverage on the web. The best of these plates, like today's New York Times, contains powerful photographs and evocative writing (""the labyrinthine mass of oleander and jasmine, lantana and mimosa" -- Faulkner). Much of this fare is tediously routine, like in today's San Francisco Chronicle, which devoted it's entire front-page to the hurricane aftermath, enough room for quote after clichéd quote: "It looks like a bomb hit it …"; "It's downtown Baghdad."; "It's like being in a Third World country." OK, I got it.
New Orleans' local newspaper, the Times-Picayune portrayed the real weakness of a ground-zero newspaper during a disaster: It could not publish. T-P staffers were forced to flee their newsroom, and their presses, and were reduced to publishing a PDF via the paper's web site. (I'm not trying to detract from the what I'm sure is the immense workload and tension T-P journalists are under at the moment, but emphasizing instead precarious reliability of print in a disaster. Even had the T-P managed to publish, as the San Francisco Chronicle did in truncated fashion after the 1989 Loma Prieta earthquake, who would have been left in New Orleans to read it. A printed version of the T-P would have been for history, and ego, alone.

The Snack Bar: This, of course, is television. While I was running on a treadmill at the gym before the storm made land, I watched (without sound) an hour of Anderson Cooper doing stand-ups in the wind alternating with video of cars crawling across causeways. Less than fascinating. TV news has become like traffic itself - it's a necessary fact of life, it's annoying but tolerable in small doses and it's eventually meaningless.
UPDATE: Tim Goodman of the S.F. Chronicle summarizes TV hurricane coverage: "A truism of television is that you're either a person who likes to watch hurricane coverage on television, or you think it just looks really wet and windy."

The Home Cooking Corner: Even today, "Katrina" is still the No. 1 search term on Technorati. Everyone blogged Katrina - from the Times-Picayune (which started writing from the newsroom and then turned its blog into an online forum for citizens) to Instapundit.
There are plenty of digital video and stills available, some of it compelling by its very amateurishness, such as this 3-minute walk through the abandoned downtown of Gulfport, Miss., but much of the so-called "citizen journalism" photography was little better than the millions of bad snapshots made everyday by every-day people. See these photos collected by the Times-Picayune as examples (click on Citizen Journalist Photos link.)
Homespun photography, which provided first-hand documentation of the London bombings [ Read: London Bombings: The Unread Newspaper.] couldn't compete with the pros in a widely covered disaster. Part of the appeal of citizen journalism is the ability to extend coverage into areas where professionals are not, either because of immediacy or access. (The citizen video above is compelling because its makers went in ahead of the pros.) Head to head, in something like photography where skillful use of technology matters, the pros will win.
UPDATE: Read how the St. Pete Times used its staff to make one of the most memorable photos of the hurricane. Quote: "As soon as he walked out the door, there was news all around him." It's all about being there.
How was the meal? Satisfied? I am. But I wouldn't be if I ate at just one serving station. Each item on the media menu has its strength, each its weakness.
Jeff Jarvis (Buzzmachine) was quoted in today's New York Times on the frailty of both broadcast and print in a natural disaster. He said (my emphasis):
"Owning broadcast towers and printing presses were useless. The Web proved to be a better media in a case like this."
True enough (as we'll unfortunately find out some day in San Francisco). The web also has its weaknesses, though. All that good stuff that's online, all that breadth and depth, is useless to someone without power or a computer. For refugees or even the displaced middle class living in motels, TV and radio rule.
Finally, the dispersal of Katrina coverage across so many platforms points to the absolute necessity for news companies - and this means you, newspapers - to become literate and capable in these various disciplines of reporting, distribution and connection to community.
Tags: Journalism, Newspapers, Media, Katrina
Posted by Tim Porter at
01:47 PM
|
Comments (1)
August 05, 2005
Journalism is a Verb, Not a Platform
The message from the New York Times is a powerful one: Journalism is what we do. Print, web and broadcast are delivery vehicles.
The announcement by the Times that it is merging its digital and print newsrooms is the most significant signal to date that the newspaper industry is acknowledging a reality long forecast by online pioneers: The future of news is digital and the future of journalism depends on creating economically viable entities that draw a variety of audiences.
The argument of whether online journalism is different that print journalism is dead.
Bill Keller, executive editor, and Martin Nisenholtz, head of digital operations for the Times, said in a memo to employees:
"By integrating the newsrooms we plan to diminish and eventually eliminate the difference between newspaper journalists and Web journalists." (Emphasis added.)
Other newspapers have preceded the Times to the digital-print marriage altar - notably, the Tampa Tribune and Fort Lauderdale Sun-Sentinel - but the Times is an iconic symbol of American print journalism and when it says the walls are coming down, then institutional evolution is clearly afoot.
Newspapers are beginning to get it. As Jeff Jarvis said the other day in reaction to the Times' announcement:
"The essential truth of all this is that a fundamental change in media is driving fundamental change in the market, which should be driving fundamental change in news products, which must cause fundamental change in newsrooms. That is what we are witnessing now. I often hear people say that big-media executives don't get it, that they don't get the imperative for change. Well, they're getting it. They have no choice." (Emphasis added.)
That said, the convergence argument still needs to made to many editors. They don't yet understand that, as Keller and Nisenholtz said, "our readers are moving" and we must follow.
Journalists love facts. So, then, doubting editors wherever your are, here are some data:
The web grows readership. The Atlanta Journal-Constitution reaches, one of this year's winners of APME's convergence awards, increased its readership by 10 percent - about 223,000 readers - via its online presence, a Scarborough Research study found. (By contrast, print circulation is declining at an increasingly rapid rate.)

The classified model is eroding. Free is the new advertising standard. Traffic to Craigslist, the peer-to-peer, unmediated antithesis of the typical newspaper's locked down, pay-to-play web site, is surging at stratospheric rates, nearly doubling its market share year over year. Advertising is content. Audience draws more audience. Print will lose this contest to online.

Younger people don't read newspapers; they turn to online for news. Merrill Brown's must-read report, Abandoning the News, found that 18-to-34-year-olds "most frequently" cite Yahoo.com and MSN.com as their daily news source, "with 44 percent of the group using portals at least once a day for news." Newspapers are at 19 percent. The average age of a newspaper reader is 53 (Abandoning the News) and there are things (such at the Minneapolis Star Tribune's experiment with the Readership Institute) newspapers can do to attract younger readers, but no amount print reinvention is going to draw enough eyeballs to underwrite the journalism we want to do. We need that digital audience.
Convinced?
Tags: Journalism, Newspapers, Media
Posted by Tim Porter at
12:29 PM
|
Comments (1)
August 04, 2005
The News About Noticias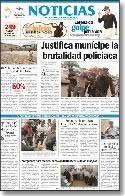 One reason I like spending time in Mexico is the perspective I gain there. Here, in the U.S. media bubble, we discuss the nature of journalism, the future of news and what that means for us as a democratic society.
In Mexico, however, and in so many other countries, the discussion among journalists is much more basic - how to avoid government censure, how to avoid shutdown and even how to stay alive.
Compared to some of the more onerous environments for journalists on the globe, Mexico is relatively tranquil. The Committee to Protect Journalists reports only two journalists were killed there in 2004, although "poorly paid journalists still accept bribes from politicians, and government officials still dole out tax incentives and government advertising in exchange for positive coverage."
In Oaxaca, where I built a house, one of the larger local newspapers, Noticias, is engaged in a lengthy struggle with the state government, a dispute that during my recent trip deteriorated into a "strike" staged by a pro-government union and a de facto invasion of the newspaper's downtown offices under the watchful, but non-interfering eye of local cops.
Like all things in Mexico, the story is complicated and there are few heroes, even among the journalists.
The governor of Oaxaca, Ulises Ruiz Ortiz, is PRI, Mexico's longtime ruling party; the publisher of the paper is the brother of the leader of the state's opposition party. Some say, as does this Miami Herald story, the dispute dates to a rejected attempt by Oaxaca's former governor, Jose Murat, (also PRI) to buy part of the paper after he staged a fake assassination attack on himself last year and the paper reported on the antic.
Noticias, like most other regional Mexican papers, routinely receives government "subsidies" in the form of ads (see this New York Times story.) Ethics in Mexico are typically situational and local newspapers regularly take sides on political issues, with most supporting those in power to the detriment of quality journalism.
That said, it is distressing to see any government attempting to silence a newspaper. Mexico, like all third world countries, needs more free press, not less. The Noticias dispute has drawn the attention of the Committee to Protect Journalists and the Inter American Press Association.
As we struggle in the United States to create new forms of journalism for an uncertain future, let's remember that regardless of how daunting or difficult that effort may be it is a luxurious endeavor afforded to us by the freedom to publish we enjoy. Without that, there is no journalism is any kind.
Tags: Journalism, Newspapers, Media
Posted by Tim Porter at
12:11 PM