The News About Noticias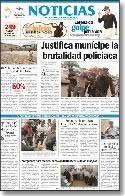 One reason I like spending time in Mexico is the perspective I gain there. Here, in the U.S. media bubble, we discuss the nature of journalism, the future of news and what that means for us as a democratic society.
In Mexico, however, and in so many other countries, the discussion among journalists is much more basic - how to avoid government censure, how to avoid shutdown and even how to stay alive.
Compared to some of the more onerous environments for journalists on the globe, Mexico is relatively tranquil. The Committee to Protect Journalists reports only two journalists were killed there in 2004, although "poorly paid journalists still accept bribes from politicians, and government officials still dole out tax incentives and government advertising in exchange for positive coverage."
In Oaxaca, where I built a house, one of the larger local newspapers, Noticias, is engaged in a lengthy struggle with the state government, a dispute that during my recent trip deteriorated into a "strike" staged by a pro-government union and a de facto invasion of the newspaper's downtown offices under the watchful, but non-interfering eye of local cops.
Like all things in Mexico, the story is complicated and there are few heroes, even among the journalists.
The governor of Oaxaca, Ulises Ruiz Ortiz, is PRI, Mexico's longtime ruling party; the publisher of the paper is the brother of the leader of the state's opposition party. Some say, as does this Miami Herald story, the dispute dates to a rejected attempt by Oaxaca's former governor, Jose Murat, (also PRI) to buy part of the paper after he staged a fake assassination attack on himself last year and the paper reported on the antic.
Noticias, like most other regional Mexican papers, routinely receives government "subsidies" in the form of ads (see this New York Times story.) Ethics in Mexico are typically situational and local newspapers regularly take sides on political issues, with most supporting those in power to the detriment of quality journalism.
That said, it is distressing to see any government attempting to silence a newspaper. Mexico, like all third world countries, needs more free press, not less. The Noticias dispute has drawn the attention of the Committee to Protect Journalists and the Inter American Press Association.
As we struggle in the United States to create new forms of journalism for an uncertain future, let's remember that regardless of how daunting or difficult that effort may be it is a luxurious endeavor afforded to us by the freedom to publish we enjoy. Without that, there is no journalism is any kind.
Tags: Journalism, Newspapers, Media
Posted by Tim Porter at August 4, 2005 12:11 PM