Print 3.0: Lessons from the Web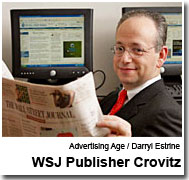 An interview with the publisher of the Wall Street Journal about the newspaper's upcoming redesign contains lessons for any newspaper seeking to maintain the relevance of print journalism in a digital age.
Here are some bullets from an Advertising Age article about the Journal's makeover, due to debut next year:
The Page 1 news summary, What's News, will spawn offspring in other sections.
More articles on "what it means" vs. "what happened."
More forward-looking reporting.
More themed content.
Smaller size web, making the Journal the same width as the N.Y. Times or Washington Post.
None of these ideas is revolutionary. News summaries, topical sections and contextual reporting have been on the newspaper menu for decades. In the Journal's case, though, print redesign decisions are being driven by the usage habits of the paper's 761,000 online readers. Publisher L. Gorden Crovitz tells Ad Age (emphasis added):
"Navigation and being able to benefit from content in context are very much themes of the digital age. There is a great opportunity for the newspaper to help us overcome information overload by helping us, once a day, put the content in context."
In a word, the Journal redesign is addressing the most powerful determinant of readership habits: Expectations.
The proliferation of digital media has changed what people - especially young people - expect from media use. They expect quick information. They expect relational content (including advertising). They expect interactivity. They expect personality. They expect specificity of purpose.
In other words, they expect an "experience" - thank you, Readership Institute - that is different from that delivered by a traditional newspaper. Print 3.0 (borrowing from the Journal's name for its redesign) is going to be all about reader experience.
Mario Garcia is leading the Journal's redesign. He helped colorize the Journal a couple of years ago and converted the paper's international editions last year to a "compact" format - i.e., tabloid. He talked with Eric Deggans of the St. Pete Times about the Journal project (emphasis added):
"It's basically a rethinking . . . (according to) how people receive information today. Everything is on the table. How many sections? How much fusion with the Internet? Page-by-page, section-by-section, we are doing an absolute autopsy of the newspaper."
Another core lesson: Think big. Don't tinker. Put all of the newspaper on the table and ask: Why do we do it this way? What if we didn't. This is a basic lesson of reporting: Question assumptions. Let's apply that reasoning to the end product of our journalistic work, the newspaper.
In the same St. Pete Ad Age piece, Bill Gaspard, a deputy managing editor at the Las Vegas Sun and former president of the Society for News Design, talks about the need to rethink the newspaper format design so it reflects the expectations of modern readers (emphasis added):
"The design is fine at most newspapers. (But) no one is acknowledging yet that people spend 20 to 30 minutes a day with them, and we're still editing and designing this stuff as if people are spending two or three hours a day with it. Newspapers have largely been produced for the satisfaction of other journalists, and the jig is up now."
Of course, not all papers, especially smaller ones, can spend whatever the Journal is laying out for Garcia and a parade of focus groups on a redesign, but all papers can take an unflinching look at their story forms, their design and their content mix with the purposing of asking the question: Is this serving the needs, desires and expectations of today's web-conditioned readers?
There is, at last, a growing sense of urgency in the newspaper industry that change is inevitable not only to maintain social relevance but to preserve financial viability. Well-heeled papers like the Journal may lead the way on some sorts of change (although much of the most creative innovation is being done at smaller papers), but every newspaper now has the chance, and the excuse, for unlimited reinvention.
As Garcia put it in commenting on content changes at the Journal(emphasis added):
"Hard financial times lead to opportunity. Younger readers want to read about fashion. They want to know which suit to buy. And if the Wall Street Journal doesn't give them that, somebody else will. . . . So let's take the opportunity to really do it well."
Tags: Journalism, Newspapers, Media
Posted by Tim Porter at June 1, 2006 12:40 PM