Money, Money, Money
Dave Cole, a newspaper industry technology consultant, tracks the compensation of newspaper company CEOs and publishes an annual update in his newsletter News Inc.
News Inc. is a subscription product, but Dave said I could share some of his research. The chart to the right is a sampling of what Dave pulled from company proxies for fiscal 2003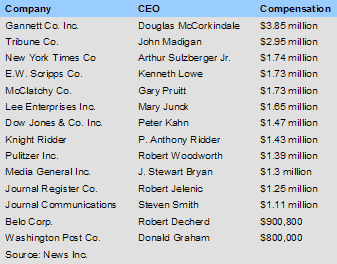 Of course, these salaries (which don't include valuable stock options and equity grants - see News Inc. for more on those) are not as outrageous as compensation packages granted executives in other industries, and they must be viewed in the context of each company's financial performance.
(For a good example of executive compensation measured against financial performance, see this report and chart in USA Today, which was based on data compiled and analyzed by San Francisco proxy advisor Glass Lewis & Co., for whom my wife is an executive.)
For example, Junck of Lee Newspapers was awarded a $325,000 raise in 2003 (24 percent), while the company profit fell 4.8 percent and shareholder return fell 17 percent from the end of fiscal 2002 to the end of fiscal 2003. That's not much of an investment for shareholders.
Even more important is the the gap between rank-and-file newsroom salaries and those in the executive offices. Dave Cole calculated that "when you trim off the biggest and smallest companies, it appears that the 'average' newspaper company chief executive gets about $1.6 million a year." By comparison, the average salary for a reporter working under a Newspaper Guild contract in 2002 was $43,818. The CEO-to-reporter pay ratio in this case is 36 to 1.
(Of course, non-union journalists and those working in smaller papers earn much less. The University of Georgia's annual survey of salaries obtained by their graduating journalism found the average starting wage in 2002 to be $26,000 - a 61-to-1 pay ratio from the boardroom to the newsroom.)
Again, these ratios are much lower than the national average - 301 to 1 in 2003 - but poor salaries are one of the top reasons that good journalists leave the business as well as one of the major hurdles to attracting the best and brightest college graduates.
Dave Cole asks the question that deserves to be answered: "In the six years I've been keeping these records, that means that the average newspaper CEO compensation has increased 47 percent, even after compensating for inflation. Did your salary go up 47 percent in the last six years?"
Before corporate boards award more salary increases to news company executives, perhaps they should also answer these questions: Has circulation increased? Is readership on the rise? Is the quality of the newspaper improving? Has the staff of the newspaper become more diverse? Have news executives demonstrated an ability to innovate? Has newsroom attrition declined?
Posted by Tim Porter at May 13, 2004 09:45 AM