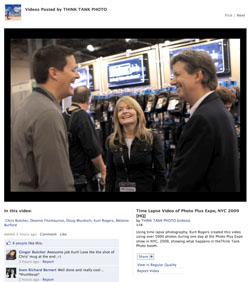 Photo Plus Expo, the mega photo show in New York, was last weekend. I uusually don't have much interest in these events — I don't need any more reasons to separate me and my money — but after reading and seeing these reports from the show I might have to make it to one. Here's a wrap-up:
* Think Tank video: Photographer Kurt Rogers,  one of the founders of Think Tank Photo and and ex-newspaper colleague of mine, assembled a video of the action at Think Tank's booth. That's Kurt's wife and co-founder Deanne Fitzmaurice, left, who won a Pulitizer while shooting for the S.F. Chronicle.
 * Kelby's Take: Scott Kelby provides  a big wrap on the show, highlighting the buzz (video on DSLRs, what was missing (Adobe) and New York food (Keen's Chophouse — "amazing steaks and atmosphere." Only one low spot: A workshop in which "the instructor didn't teach anything—he just showed slides and talked about himself (and how much smarter he was than the art directors, and the clients, and well…everybody)."
* Video Reports: John Harrington of Photo Business News walks the floor and does on-camera interviews with Think Tank, Photoshelter, Orbis and more. Here are his reports from Day 1 and Day 2.