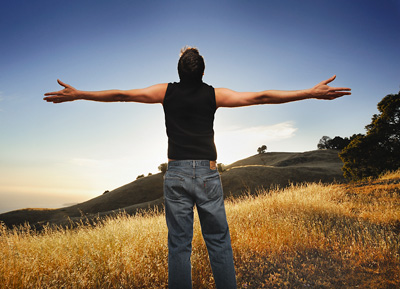 " You can't always get what you want, And if you try sometime you find, You get what you need."
It was the first day of summer, the solstice, and a chill wind was blowing fierce off the ocean. Perched as we were on a ridge high on Mt. Tam, we were catching it full on — me, my wife, a friend and her husband, who was the "model" for the above photo.
The wind was so strong that even 50 pounds of sand and two people could barely keep the softbox from becoming airborne.
We were here to make a picture for Marin Magazine, where I do a bit of writing and a lot of shooting. The editors needed an opening image for the magazine's annual Editors Choice issue that illustrated the thrill of living in Marin County.
The top editor had an idea in mind — something she had seen in a stock shot — of someone stretching languorously against the sky, relaxing and letting out the jams after a hike or run on Mt. Tam, the 2,600-foot peak that forms Marin's skyline signature.
The whole concept of the shot depended on location, a place that overlooked the ocean, faced the sun and had enough other visible landscape to say "Marin" — golden hill, blue sky, etc. I only had one day to scout and the evening before the shot drove all over the mountain looking for a spot. None were perfect, but I thought this ridge might work even though at this time of year the sun sets much more to the north than to the west.
Soon after we set up, though, and I began making test shots while waiting for the sun to drop further it became clear the angle was not going to work. Even on a ladder, I couldn't get all the elements in the frame the way I wanted.
There was one other complication: Our "model," while in decent shape was far from buff. Cove-up was needed. My wife donated her vest.
We shot for about 45 minutes up and down the ridge, and I didn't have what I needed. Pack it up, I said. We opened a cooler, broke out the brew and began stowing gear. Just as we started to break down the strobe, the sun touched the top of a hill to the north, spraying golden light all over us.
I jumped up with a camera, the model set down his bear, the others grabbed the light (just holding the boom in their hands) and I shot about 15 or 20 frames, switching for the last few to a 17 mm with a graduated neutral density filter screwed on the front.
There it was. A shot. Not the one I came for, but one I could take home.
(Here's a slide show of the whole Editors Choice shoot.)