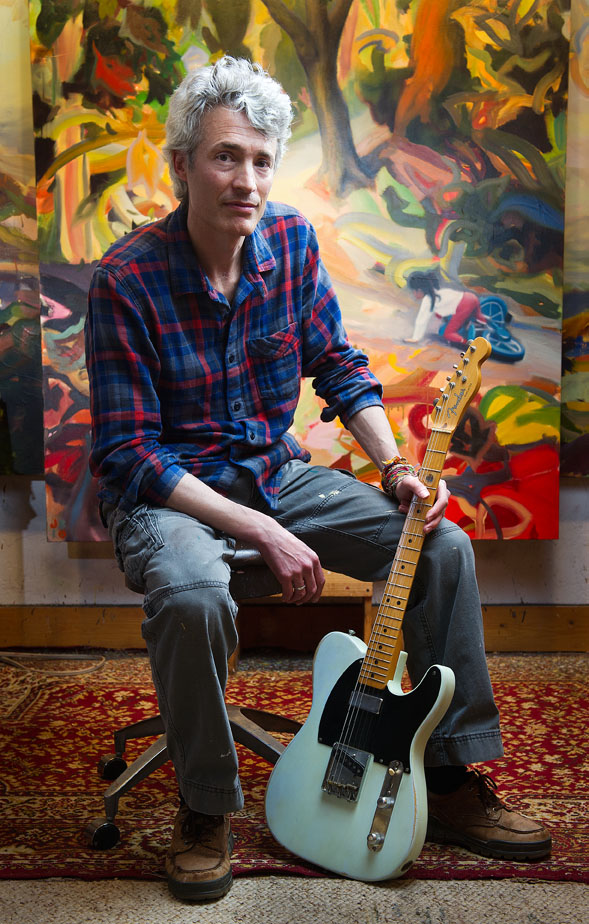 A while back I had the opportunity to photograph a few Marin County painters in their studios and write a short piece for Marin Magazine about the curiosity the artist's studio holds for most of us who earn our keep in more prosaic ways. This allure is one reason for the success of open-studio events, which allow the general public to wander, glass of chilled Chardonnay in hand, amid the wondrous clutter of these creative spaces.
"We flock to them like curious visitors to a carnival sideshow," I said. "Oh, see how they live! There are their paints! What whimsical furniture! … the voyeur who lives in all of us?—?the one who surreptitiously peeks into the closets of friends (and don't we all?)?—?is thrilled by the backstage pass into this normally cloistered corner of the art world. Perhaps the paint-spattered floors will reveal the key to innovation? Maybe the pungent varnishes will awaken dormant inspiration? Could that rack of half-finished canvases spur completion of our own inchoate dreams?"
A bit much? Perhaps. But nosy I am and in search of inspiration as well, so I never pass by the open door of someone else's studio — especially if I have camera in hand.
Fairfax painter Jeff Beauchamp (above) works out of bland, beige office building whose monochromatic exterior belies the explosions of color on canvas he produces. Jeff won the magazine's annual cover contest and I photographed him in his studio with his vintage Fender Telecaster, which occupies his hands when his brushes are idle.
The gallery below includes some recent artist portraits, all painters except for  Mill Valley musician Austin de Lone at his keyboard. His story is here. The artists in the order shown are:
Elizabeth Gorek; Georgette Osserman; Kay Carlson; Eric Zener; Sue Averell; Austin de Lone; Jeff Beauchamp.