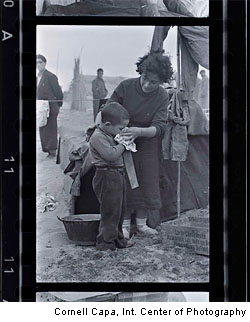 * The Mexican Suitcase: The International Center of Photography in New York has begun releasing images from the 4,300 negatives it received in a suitcase a couple of years ago containing the work of Magnum co-founder Robert Capa and his fellow photojournalists covering the Spanish Civil War, Gerda Taro and David Seymour. Amazing images, say the curators, but still no negative of Capa's most famous and somewhat disputed photo, "The Falling Soldier," a shot of a Spanish soldier being hit by a bullet. Capa's photo at left is of a Spanish refugee camp in France. The New York Times has a slideshow.
* Danny Lyon, Down and Dirty: The Times also has a profile of photographer Danny Lyon, who has a new book, "Memories of Myself." The Times describes Lyon as being …
" … among a group a revolutionaries whose work rose to prominence in the late 1960s and '70s and transformed the nature of documentary photography. … The idea of conscience has been embedded more deeply in Mr. Lyon's photography than in those of all but a few of his contemporaries."
The new book is a collection of photo essays whose settings range from Chicago to Haiti.
* Detroit: The Troubled City: Think the recession has hit your town hard. Chances are where you live is better off than Detroit. Magnum shooter Bruce Gilden has a new photo essay up showing the hard times in Motor City.