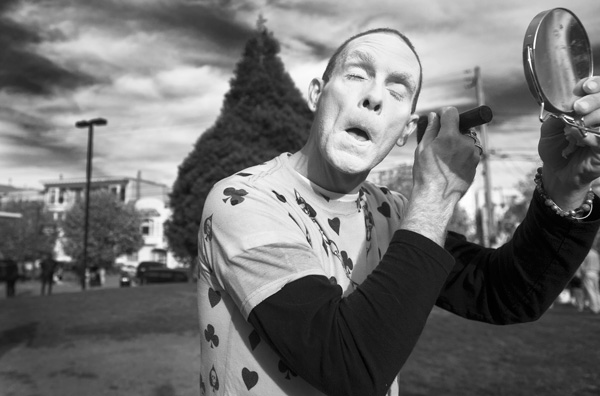 Death is a lot of work. The dead are gone in a minute, but their survivors need hours and days and weeks to prepare a celebration for them.
In Garfield Square yesterday, El Día de los Muertos, the sons and daughters and widows and widowers and friends and colleagues of the dead devoted the afternoon to building shrines of all sizes and complexity to their mothers and fathers and husbands and wives and partners and fellow members of the Sisters of the Perpetual Indulgence who have died, some years ago, some just the other day.
All around them, as they laid out orange marigolds and family photos and precious possessions, and erected boats crewed by skeletons and created fanciful trees of wire festooned with clay creatures crafted by schoolchildren, life went one, life that had nothing to do with the dead.
In the center of the square, on an iridescent carpet of green artificial turf separated from the more muted verdure of the actual grass by a chain-link fence, teams of young girls played soccer. Their voices, exuberant, and those of their coaches, urgent, provided a soundtrack for the day.
Along 25th Street, occupying the concrete lip of park's northern edge, where a shaft of western sunlight warmed the block, drunken men clustered in boozy amiableness, alternately ignoring and suffering the transgression on their turf by the altar-makers.
In increasing numbers photo-tourists arrived. Their baggy old man jeans marked them immediately, too clean, too blue, and too suburban for the dark grit of the Mission and the bright colors of Muertos. Politely, their pointed their big cameras at small children who face painters had transformed from angels into ghouls.
I confess to interloping myself. I am now a tourist in the city I once called mine.
Decades ago, I lived a few blocks from Garfield Square. Rent was cheap – and for good reason. Drug dealers and gang bangers were much more plentiful than children. There was no outcry over forced evictions in the Mission because there was no line of people waiting to move in. Sadly, I have not walked this neighborhood for many years.
Despite my long absence, I felt at home. The streets around the park were familiar in shape, sight and sound. The long views along Bryant – to faraway downtown and to nearby Bernal – resurrected mental albums of similar images I stored away long ago. The preponderance of concrete, uninterrupted from stoop to stoop, recalled my years of walking those streets – for work, for drugs, for sleep, for lack of anything else to do. On those streets of San Francisco, in the Haight, in the Mission, I died many times and I was reborn just as often, resurrected by luck or coincidence or the helping hands of others.
More than all that, though, I felt at home among the people making the altars.
They were urban, meaning they were accustomed to living among other people, used to being stared at and open to having an instant conversation with a stranger.
They were gay, meaning that at some point they broke from the path their parents hoped they would travel and found themselves, either by intention or instinct, living in a community of others who had done the same.
They were artists, meaning that they created for the sake of creation and they found no lack of sense in devoting an immense of time to build honor a friend or a loved one with a shrine that would last only a few hours. They found meaning in the doing.
I am a tourist among them as well. I left the city, I lost my intentions, I sought reason for creativity.
Saying this another way, on the Day of the Dead in the Mission I found parts of the life I left behind and now hope to recover.
I left Garfield Square at dusk. Dinner with friends – out of the city – waited. But, I was more interested in the people building the altars than those who come in the night to view them. And I had no desire to photograph the after-dark parade through the Mission, which, in addition to the Latinos an of the city and beyond Muertos is a connection to their roots, draws thousands of young anglos who know see the event as just another hormonal opportunity to drink and act out in public. But that's life, too.
Below are a few snaps from the day.