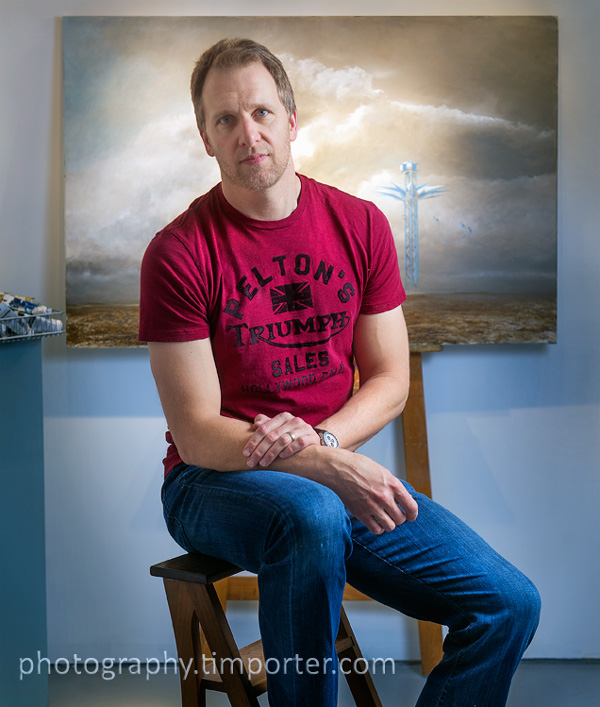 I had the opportunity this year to again photograph the winner of Marin Magazine's annual cover contest. The winner, chosen from among more than 400 entries, was painter Greg Martin.
I photographed Greg in his studio, a basement space in his San Anselmo home. The studio is small, not more than than 10 x 20, and Greg is a big guy, what some would call a strapping lad. I squeezed a small strobe and umbrella against one wall, and let the light ricochet around the studio's white walls and ceiling, producing a nice, soft look.
Greg's artwork, which walks the line between whimsical and ethereal — a fun place to be — provided the backdrop. Later, I noticed he wore the same deep red Pelton's Triumph T-shirt that he has in his bio photo for his website.
Greg was the main attraction at the magazine's Open Studios' party celebrating the finalists for the cover. Here are  some snapshots of him and some of the others. He has a show up at Gallery Bergelli in Larkspur (the opening is tonight.)
I enjoy photographing artists, especially painters because their studios and their painting supplies fascinate me (although Greg's was a bit too clean for my taste). Here's my post from a year ago about photographing the 2011 cover contest winner and a collection of other artist portraits.
Visit your local Marin artist this weekend (May 12-13) during Marin Open Studios. I'm showing my newest work at The Image Flow, 401 Miller Ave., in Mill Valley, from 11-6.