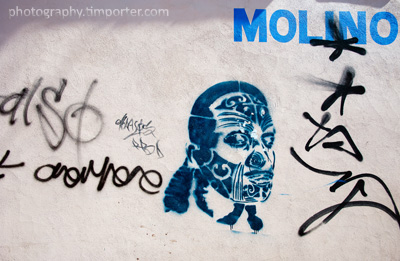 Last night while at a reception at a local art gallery I was talking with Edgar Sóberon, a talented painter whose work was chosen for the next cover of Marin Magazine. Sóberon, a native of Cuba who now lives in San Miguel de Allende, the central Mexico city known for its large community of both artists and North American expats.
I mentioned to Sóberon that my wife and I have a house in Oaxaca in Southern Mexico. Hearing that, a woman in our conversation pocket said she planned to visit Oaxaca this summer and wanted to know what it was like. "Ah," said Sóberon, "Oaxaca is what's left of the real Mexico."
As soon as I heard those words, I thought: The real Mexico? Which one is that?
Is the real Mexico in San Miguel, where thousands of older Americans, some wealthy, others living on Social Security, enjoy the tranquility, historical ambiance and mild weather the strong dollar buys them in this prosperous hillside city?
Is the real Mexico the terrorized border cities like Ciudad Juarez or Nuevo Laredo, where narco militias kill at will to protect their trafficking empires?
Is the real Mexico the one this art gallery guest hopes to visit in Oaxaca, where vendors sell colorful balloons in the zócalo, where the streets are lined with shops of artesania and where the cafés are crowded with language students having soulful discussions with their teachers?
Or is the the real Mexico the other Oaxaca — where government at all levels is marked by corruption, cronyism and crass disregard for the welfare of its citizens, where the average level of education is six years,  where three quarters of the population lives in "extreme poverty," and where rural Indian communities continue to engage in tribal turf battles reaching back to pre-colonial times?
Real Mexico? These are all real Mexicos. And there are many others as well — the modern avenidas of Monterrey, the cosmopolitan chic of Mexico City and, the one known by most Americans, the self-contained resorts of the Pacific and Caribbean coasts.
Sadly, the Mexico most Mexicans must endure is a dysfunctional one, where government cannot — and often chooses not — to provide basic services, where narco-violence is on the rise and where the rule of law is something read about in textbooks not practiced in real life.
This is the Mexico that Laura Carlsen, director of the Americas Program at the Center For International Policy, labels on the Huffington Post as living in a state of impunity. Carlsen write in response to the April 27 murder of two human rights workers in a remote indigenous Oaxacan village, she frames the attack in the broader context of the state government's history of not only siding with the powerful against the powerless but of actively repressing dissent.
"Layers of impunity and injustice have covered crimes in Oaxaca for years," writes Carlsen. Her list of examples is long — the shooting death of U.S. journalist Brad Will during the bloody 2006 teachers strike for which no one was ever convicted even the though shooters were video-taped; the continued iron-fisted arrogance of Oaxacan Gov. Ulises Ruiz Ortiz despite a ruling by the Mexican Supreme Court that he had committed human rights violations during that strike; and, now, the belief by human rights activists that paramilitary members sponsored by the government were behind the April 27 ambush outside San Juan Copala.
When the leaders of a society operate with corruption, arrogance and impunity, they create an atmosphere in which law has no meaning. As Carlsen puts it:
"Impunity is not merely a lack of justice and due punishment; it's an incubator of violence and crime. When impunity becomes state policy, the rule of law crumbles. "
Although Carlsen is addressing Mexico's most serious issues, her observation also applies to the quotidian illegal floutings of many Mexicans, who routinely run red lights, cheat on taxes, steal supplies from government contract jobs and see bureaucratic nepotism as a money-making opportunity.
I say these things even though I love so much about Mexico — its rich, blended culture; its amazingly diverse geography; its family centered communities; and, of course, its food (especially in Oaxaca). But I also love Mexico in the way I'd love a friend or relative with a substance-abuse problem — with sadness over his state, with anger his your self-destruction, and with hope that someone, some how, stages an intervention soon.
There is a Mexican saying, a dicho, that my first Spanish teacher taught me. It is apt here and goes like this: No hay mal que por bien no venga — "there is no bad that comes without a good."
The real Mexico? That's the one still waiting for the good to come.