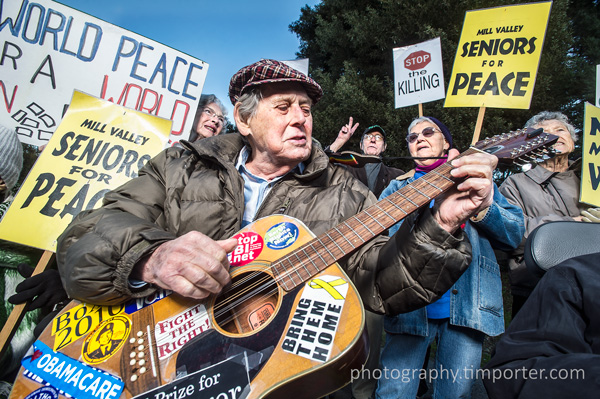 For 10 years, a group of elderly residents of Northern California's hippest retirement community, The Redwoods in Mill Valley, have gathered every Friday afternoon at 4 o'clock on the street corner in front of their complex to demand peace over war.
Mill Valley Seniors for Peace, as they call themselves, began the weekly demonstration in protest of the U.S. invasion of Iraq in the spring of 2003. It has continued without interruption, through the winter's rain, the summer's fog and the inevitable deaths that occur in a group whose members include several who are well into their 90s.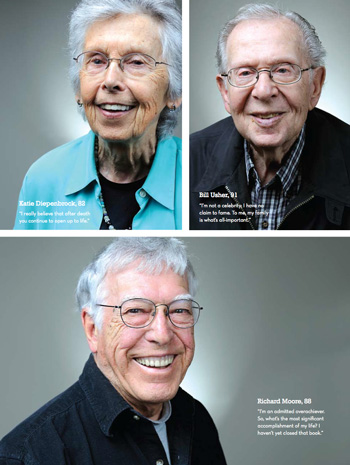 As street theater, they are rowdy and spirited and impossible to ignore, yet, reflecting their generation, they are also respectful, polite and welcoming to strangers (and strange photographers) who stop to chat with them or take their pictures.
Led musically by Rolly Mulvey (above), an 85-year-old retired paper salesman who strums a 12-string guitar that is short a few strings, the group gathers for hour, some standing, some sitting, some in wheel chairs, to sing songs of Pete Seeger and Woody Guthrie, to applaud passing motorists who honk in support,  and to remind all of us, in a greater sense, that passion, commitment and action are not the provenance of only the young.
I've photographed these folks several times over the decade they've taken to the corner, including once for a Marin Magazine feature on The Redwoods. (Here's a PDF of the story).
For that ariycle I not only photographed the weekly demonstration (see the photo below), but made portraits of the seniors themselves (left.).
Bill Usher, the grandfatherly-looking gentleman in the upper right, is one of the group's founding members. He was 91 when I took that picture. Today he is 95 and still out there on that corner. He told Marin Magazine, which ran a one-pager on the group to mark its 10th anniversary: "We live right here. And we' haven't missed a Friday since January of '03, when Bush talked about a war against Iraq."
Earlier, in the 2008 story, Usher said,
"I feel strongly about it. If I could talk to President Bush, I'd tell him 9/11 was justification for invading Afghanistan but our going into Iraq was wrong in the first place. We took our eye off the ball. It was a terrible, terrible mistake."
For the photograph this time I tried something different. I brought my Profoto pack with me and hung a beauty dish above the group as they sang, beat drums and waved signs. I wanted a photo that was as bright and animated and full of life as the Seniors for Peace are. I was happy with the results.