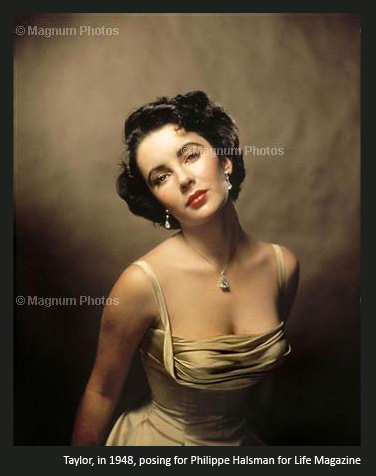 Elizabeth Taylor,who died Wednesday in L.A., was one of the most photographed woman of her generation and became a Hollywood icon in an era when stars were idolized by photographers (instead of chased). The classic lighting and poses are worth a look, no matter if you are a Liz fan or not. Here is a selection of images of Taylor. The ones from the early years are my favorites.
* Magnum Photos has a wonderful slideshow of classic Taylor images, including several by Philppe Halsman (left, for Life Magazine) and Burt Glinn.
* The New York Times, in addition to its lengthy obituary, also has a slideshow that contains still from Taylor's movies. They're worth a look for the lighting alone.
* In case you didn't make it to any of Taylor's weddings, Life Magazine has pulled together an album of them all.
* Life, again displaying the power of a deep archive, is touting this collection of "unpublished pics." Click in a few to see Taylor, in full louche, with Montgomery Clift.
* Want to own your own Elizabeth Taylor photo? Click here to see the many for sale on eBay — $3.99 will get you an 8 x 10.
* For a moving (literally) tribute to Taylor by  N.Y. Times critic A.O. Scott, watch this Times video on YouTube.