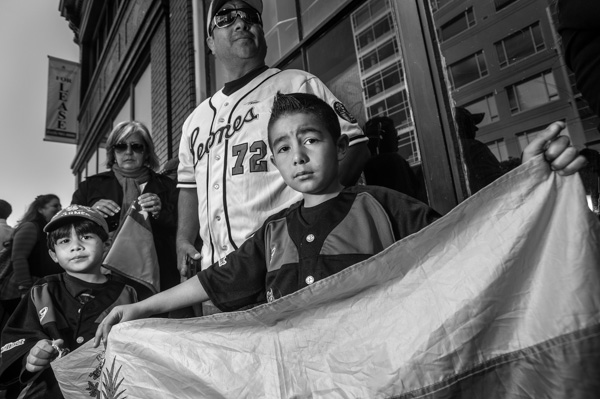 On Sunday, Venezuela held a presidential election, choosing between Nicolás Maduro, the hand-picked heir to Hugo Chávez, the U.S.-taunting strongman who died of cancer in March after 14 years of rule, and Henrique Capriles, a state governor who, under the flag of an united opposition, ran against and lost to Chavez in October.
Maduro won, but not before hundreds of Venezuelans converged on the country's consulate on Mission Street in San Francisco to vote and to loudly proclaim their allegiance to one side or the other.
Capriles supporters, most clad in some form of red, yellow and blue, the colors of the Venezuelan flag, far outnumbered the chávistas, who used bullhorns to compensate for their lack of mass.  The chávistas, wearing red, included an assortment of other left-leaning demonstrators, whose banners proclaimed support for socialism in Mexico, the Bolivarian revolution  in general and, of course, Che Guevara.
Until recently I would have not devoted part of a sunny, spring Sunday to standing on a San Francisco sidewalk amidst a crowd of vociferous Venezuelan expats, but the small Spanish school  in Marin where I engage in my own revolution against the demands of  the subjunctive is run by a couple from Caracas and the current state of their native country is a frequent topic of conversation.