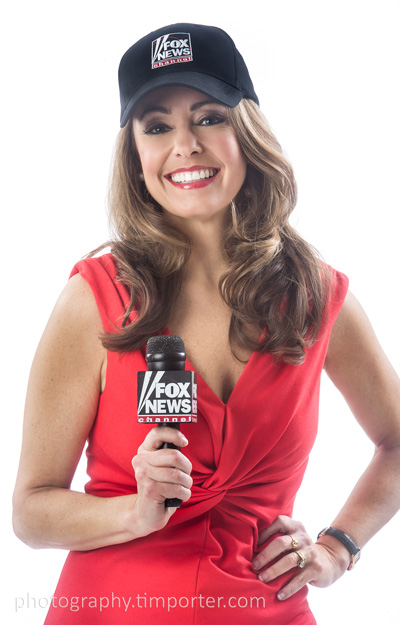 The key to looking good in a photograph — aside from being biologically blessed with an attractive array of DNA — is being relaxed. That's why I like pointing my camera at broadcasters and actors. They're used to being in front the lens. They know how to hold themselves, how to smile and how to wait (which is important during a shoot because there always seems to be a lot waiting — for something technical, for the makeup, for everyone to say what they need to say.)
Nothing much phases them. Ordinary people — meaning you and I — get nervous when they wait or, say, there's a computer glitch (which happens regularly these days with tethered shooting). Oh, oh, they think, the photographer's having a problem and I'm going to look terrible.
That doesn't happen with pros like Claudia Cowan, Fox News' San Francisco reporter. I photographed her for a Q&A with Marin Magazine (here's the story). She brought a couple of dresses, several hats and the other important thing for this kind of glammy photo with a lot of lights — a makeup artist, a good one like Christina Flach.
Christina and I worked together once before — only that time it was more personal. I photographed her husband, ex-tennis pro Ken Flach, who hung up his racket to open a barbecue joint, Best Lil' Porkhouse in San Rafael.
My work is small time compared to much of what Christina does — TV ads, print campaigns, etc. — so she was as cool as Claudia, which makes my job pretty easy. All I need to do is get the lights right, make sure the cords are connected and push a shutter button a hundred times or so.
Working with pros makes me look even more professional.
(See Claudia and Christina together in the gallery photos below).