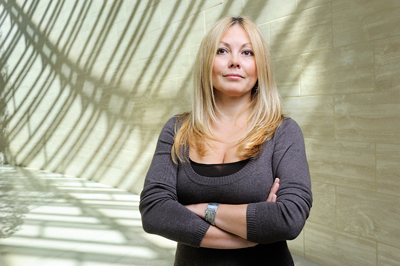 This is Victoria Lunyak, one of a dozen amazing scientists at the Buck Institute for Aging Research I photographed for the current issue of Marin Magazine.
The assignment was to create a package of photographs and text marking the 10th anniversary of the institute, whose focus is seeking treatment for diseases associated with again such as Alzheimer's and Parkinsons.
To the non-scientific community, the Buck is perhaps better know for it's striking modernist building designed by I.M. Pei. For that reason, I wanted to emphasize the faces and voices of the scientists who work there as a way to demystify the institute. We selected a dozen scientists, people like Lunyak, who runs her own epigenetics lab, to junior staff scientists who spend much of their time moving fruit flies from one jar to another.
I asked them why they became scientists, what they hoped to achieve and how they see the role of science in modern society. (Answers here.) I was struck by the amount of passion in their responses. Nearly all expressed a motivation to find cures to debilitating diseases, and some told compelling personal stories about why they became a scientist.
The portraits were done over two days, with locations ranging from open labs to the fruit fly room to the Pei buildings striking interiors. All were shot with small speedlights, using two or three lights in some instances to just one in others, like this shot above.
I also made three pre-dawn visits to the Buck to photograph the exterior at first light, once in the rain. The magazine used one of those shots (see below) in the table of contents, but the opening photo, which ran across a page and three-quarters, I shot one afternoon purely by chance while on a scouting mission, confirming once again that in this business serendipity can be as important as preparation.
You can see the series of portraits and some exteriors here. The magazine package is here.