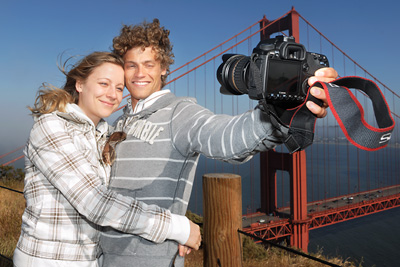 I like tourists. Maybe that is because I like being a tourist myself — seeing new places, talking with people from other cultures, finding wonder and amazement in what the locals consider to be the quotidian.
Here in Marin County, we get tourists — about 13 million a year who arrive by boat, bus and, more frequently of late bike (over the Golden Gate Bridge.) Last month I did a photo story for Marin Magazine about local tourism. I did the usual reporting about numbers and economic impact, but the most fun I had was shooting the tourists.
I photographed about 40 individuals, couples or families, mostly in tourist-heavy locales like the Sausalito waterfront, the Golden Gate Bridge view area or the Marin headlands — people from all over the world: Finland, Turkey, New Zealand. Only one couple said no, a pair of very paranoid Americans who all but shrank when I approached.
The above shot of a cute French couple was the double-truck opener for the piece.
The technique was simple: A 17-55mm on a D2Xs in my right hand, an SB800 with a remote trigger in my left, on quarter or eighth power.
Here's the whole story. Or go to the jump for the opening anecdote about four fun-loving ladies from Arizona and one's desire to be frisked.
Wish You Were Here
By Tim Porter, Marin Magazine, July 2008
Where do we get tickets for the ferry?" asks the woman, one of three sisters visiting Sausalito from Arizona with their 80-year-old mother.
Bill Patterson, manning the visitor kiosk at the ferry terminal, grins, points to a sign above his head. In big, all-cap letters it says: BUY FERRY TICKETS ON THE BOAT.
"When's the next ferry?" asks another.
Patterson grins again and points to two similar signs printed with ferry schedules.
"We just missed one," laments a sister. "Well," says another, "let's go shopping."
Patterson, not missing a beat, lobs in a well-practiced line. "Make sure you empty your wallets before you get on the ferry," he says, "because the first thing they do is they frisk you and if they find money they throw you overboard."
One of the sisters, late forties with a personality that matches her fiery jacket, counters, "I may have a little money left on me cause I'd like to try being frisked."
Ta-da. Rim shot. Score one for the visitors.
(Read the whole story.)