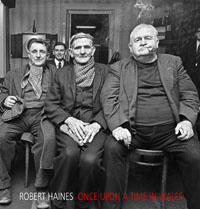 * Get Visual, Buy a Book: Here's a good list of photo book publishers compiled by A Photo Editor. The cover on the left is from Once Upon a Time in Wales by photographer Robert Haines.
* Hope Amid the Flotsam: Another good read from A Photo Editor on the "endless stream of photography" and, with it, the proliferation of mediocrity. He connects through to a farewell post from photographer Liz Kuball in which she comments:
"It is so easy, when your Google Reader is always full of excellent photographs, to feel as though the rest of the world is producing constantly, consistently, at a level you're simply incapable of."
But cheer up, brave hearts, A Photo Editor also points to Magnum photographer David Alan Harvey's more sanguine view:
"… but if you are "special" there are also way way more opportunities…and so so much room for invention….i swear, i have never seen so much room!!! "
* Get on the Grid: Sportsshooter Robert Hanashiro sings the praises of Dave Honl's grids (and other gadgets) for speedlights. They work. I use them. Get some.
* Rumor Focus: Nikon Watch keeps the full-frame Nikon mill churning with word of 12mp D400 and a 24.8mp D3x.
* Sync & Swim: Check the Journey-to-the-Bottom-of-the-Sea rig Jill Greenberg used to shoot the U.S. synchronized swim team for a Radar magazine fashion spread.