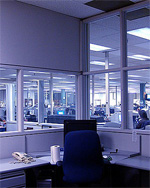 * Martin Gee, a designer at the Mercury News in San Jose, has posted a Flickr gallery of the effect in the newsroom of multiple rounds of layoffs and buyouts. Sad stuff. Empty chairs, discarded computers, blanks walls. (For a good analysis of the latest newsroom census, read Alan Mutter's explanation of why it's bunk.)
* A Photo Editor, aka Rob Haggert, has posted the results of his photo talent search. Here's the Flickr gallery.
* Chase Jarvis says don't let the internal demons get the best of you:
"At one time or another, we all get sideswiped by that little internal voice. It is that nay-saying voice that's so often the barrier between each of us and our creativity. Shedding that calculated, censoring voice, is one path to success."
* My current favorite photographer (that means for today) is Martin Prihoda. Bold lighting, striking portraits. Here's a behind the scenes video of a band shoot he did.