Good work from around the web: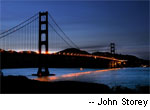 * Keep an eye on National Geographic's Week in Photos, a set of some of the best recent photojournalism. The Golden Gate Bridge shot on the left is from this week's and was shot by John Storey, a former colleague at the Examiner.
* Reuters has a photo blog for its shooters, pictures plus a lot of behind the scenes commentary.
* Getty Images has a blog, too. Here's a post by Chris Jackson about shooting the royals for 10 days in the Caribbean. Rough life.
* Bryon Houlgrave, a staff photographer for a small paper in Waukesha, Wisc., blogs about this work, which is hella good. See the raging river night shot.
* Photos are where you find them. Here's a nice feature shot by S.F. Chronicle staff Mike Kepka.