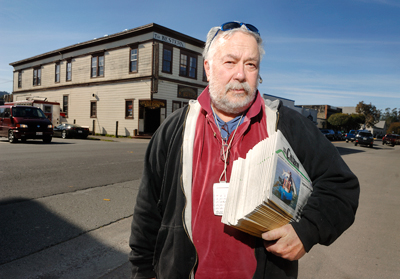 Ever since Dave Mitchell, the curmudgeonly, Pulitzer-winning editor of the Point Reyes Light sold the weekly newspaper in 2005 to Robert Plotkin, a Columbia J-school grad and former deputy D.A., the new publisher has been making news as much as he's been publishing it.
The big complaint from the locals was that Plotkin was a disengaged auslander more interested in self-aggrandizement than covering the prosaic doings of local news and, more irritating, not publishing letters to the paper as freely as his predecessor.
To make matters worse, Plotkin and Mitchell had a post-sale philosophical falling out that end up in court complete with restraining orders.
In response, the unhappy former readers did what hardly anyone is doing these days – launched a new newspaper, the weekly West Marin Citizen. Its publisher is Joel Hack (above), who had run a smaller paper up the coast in Bolinas (best known for being the scene of Alfred Hitchcock's The Birds).
The two papers look quite different. The Light reflects its ambitions for glory with a more professional design and some high-falutin' writing by the grad school interns Plotkin entices with dreams of being the next Didion or McPhee. The Citizen is rougher, its pictures more snapshot-like and its writing, well, uneven but still informative.
I got an assignment to photograph both publishers for a local magazine, which was going to print a version of a Columbia Journalism Review story done by Jonathan Rowe, a writer from West Marin.
The two men couldn't have been more different.
Hack invited me out to go on his weekly rounds of delivery and collection on my first phone call. Plotkin quizzed me repeatedly about the story and about my concept for the photo. "What's your vision?" he asked. It took several more calls but he agreed to the photograph only if I did it in a location of his choice and not show any other parts of the paper's newsroom, which he said were under reconstruction. Done.
I met Hack first and he fit the description offered by the writer: "… he looks a little like a Joel Hack." We talked a bit and as he began pulling papers out of the trunk of his car to deliver to stores around town, I began shooting.
The light was full-on sunshine, but I made some nice images with him sitting on the edge of the trunk surrounded by papers. We walked. I shot, but the shadows were terrible. We did the post office, a grocery story and a book store. In the latter, I got some nice frames of him lit by the front window counting money. I had something we could use, but nothing with pop.
Suddenly, Hack says he's got to go. We've been together about 20 minutes and I had been thinking we'd have an hour. One more shot, I tell him, something out on the street. I tell him to get an armload of papers. Then I grab a light stand and an SB800, put a Pocket Wizard on it and have him stand across from local landmark bar with the sun to his back. I shoot 10 or 12 frames and we're done. That's the shot the magazine used (1/250, F10, ISO 100).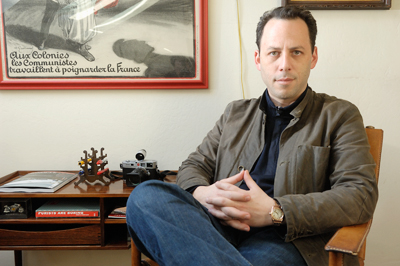 Plotkin's office is down the street, so I pack of up bag of lights and stands. At the paper, he leads me up a steep set of stairs to an attic office with angled ceilings so low there's no room to raise and umbrella. There is a skylight, but the light in the room is dim and without a strobe I'd have to shoot at 1/30 wide open. I set up a couple of SB800s, one flagged, the other snooted on either side of him and start bouncing the light off things – a wall, a refector, etc.
To complicate things, Plotkin has constructed a "set" he wants to be photographed in front of, an artfully arranged group of artifacts and posters that I suppose he believes conveys who he is. He's got a good eye, though and I like the way it looks. But after 15 minutes of shooting from various angles (and even squeezing an umbrella in very low), I still can't get the framing and the light to work together, so I move him around and remove some of the stuff.
I turn off one of the lights, come in tight and tell him to hold still (and tell me not to shake). Then I made the shot (1/60, 5.6 ISO 400). The flash is not doing much more than adding some highlight and warmth to his face.
In the end, I'm pleased with the results. I'm learning to make good shots more quickly, a continual challenge for most of my assignments, for many of which I have no more than 15 or 20 minutes.